1989 Eagle Model 20
(Build #90052, Fleet #402)
Rugged good looks backed up with outstanding durability
(Click on photos to enlarge) - Images free to share and distribute
The Story
The first Eagle was built in 1956 for Continental Trailways USA, as a competitor to Greyhound's GM PD 4501 Scenicruiser. After failing to find a US builder who would build the Eagle on Continental Trailways terms and design, they shifted their search to the UK and Europe and eventually found a willing builder, Kassbohrer Setra in Ulm, Germany.
Those early Eagles, dubbed Golden Eagles, owing to their golden aluminium panels, featured a rear viewing lounge, a galley and tables. Next was the Silver Eagle, also from Kassbohrer Setra, which was more conventional in its specification and better suited to line haul work.
In 1960, Eagle production also included coaches manufactured by La Brugeoise in Belgium, where the Silver Eagle Model 01 was produced along with Model 01 production from Kassbohrer Setra. In 1962, Continental Trailways established its own factory in Belgium, in cooperation with La Brugeoise. The new venture was called Bus and Car NV, and it continued building the Eagle Model 01, but with a revised grille arrangement.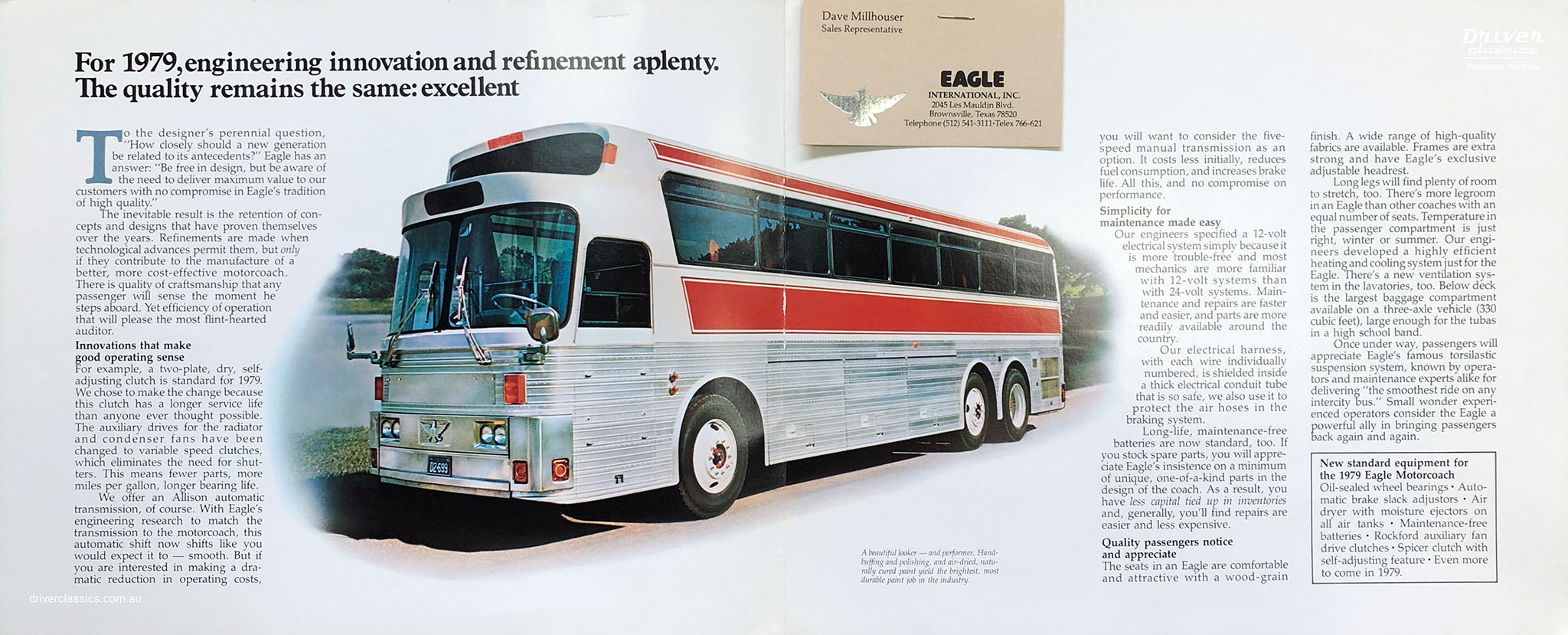 The Eagle Model 05 commenced production in 1968 at Bus and Car, Belgium and was built there until 1976. In 1974, Eagle International was set up in Brownsville, Texas USA and it also built the Model 05. In the mid-seventies, the Belgian plant was sold to MOL, NV. In 1980, the Eagle Model 10 was introduced followed by the Eagle Model 15 in 1985 and in 1987, the Eagle Model 20.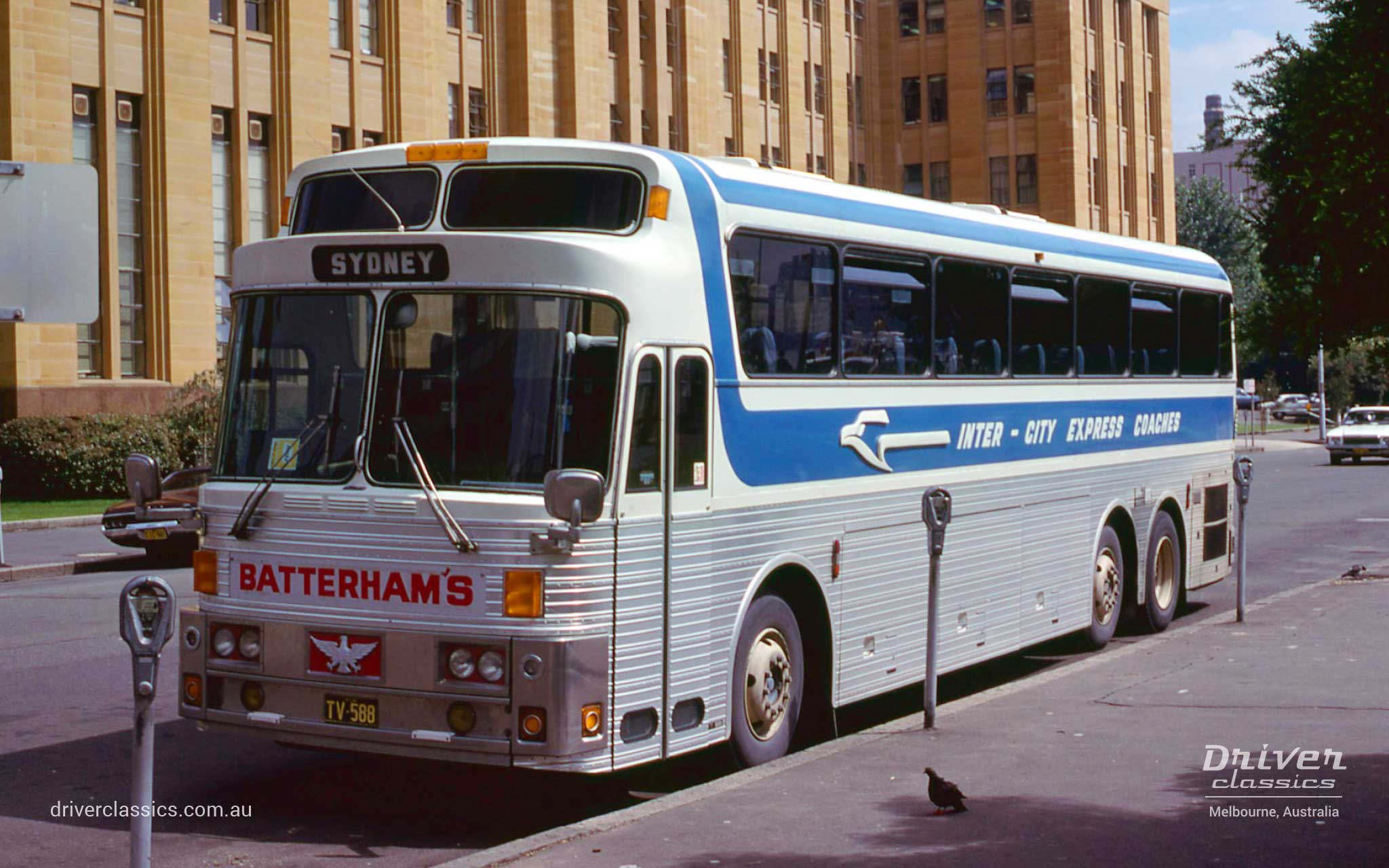 Greyhound was the prime user of Eagles in Australia with the first Eagle Model 05 arriving in 1973. All told, 42 Model 05s and 13 Model 10s were operated by Greyhound, a Model 05 for Batterham's, a Model 15 (Europe Number) for Trailer Tours and a Model 10 and a Model 20 for Lever Coachlines. Lever later acquired Batterham's Model 05. An overall total of 59 Eagles operated in Australia.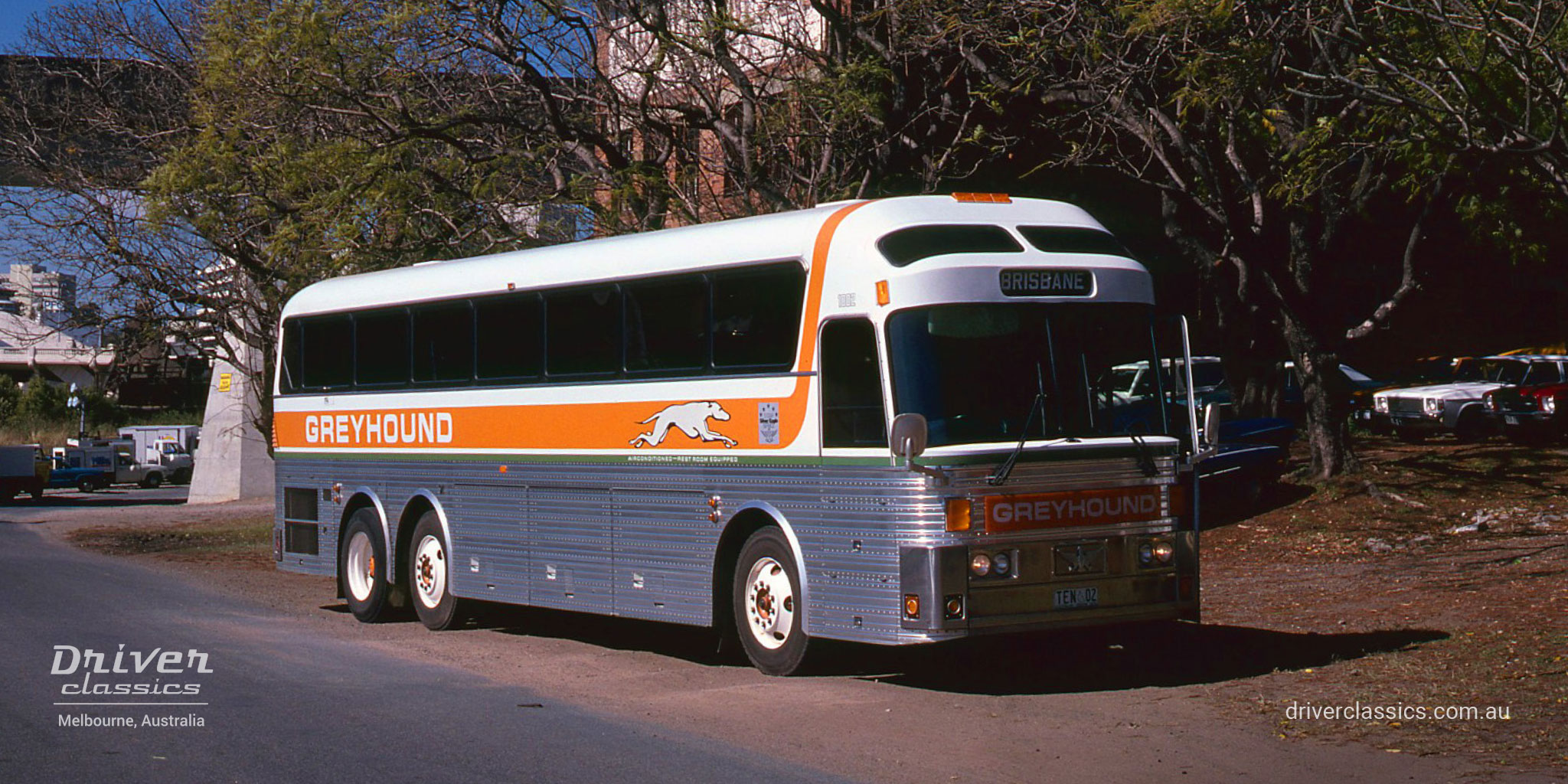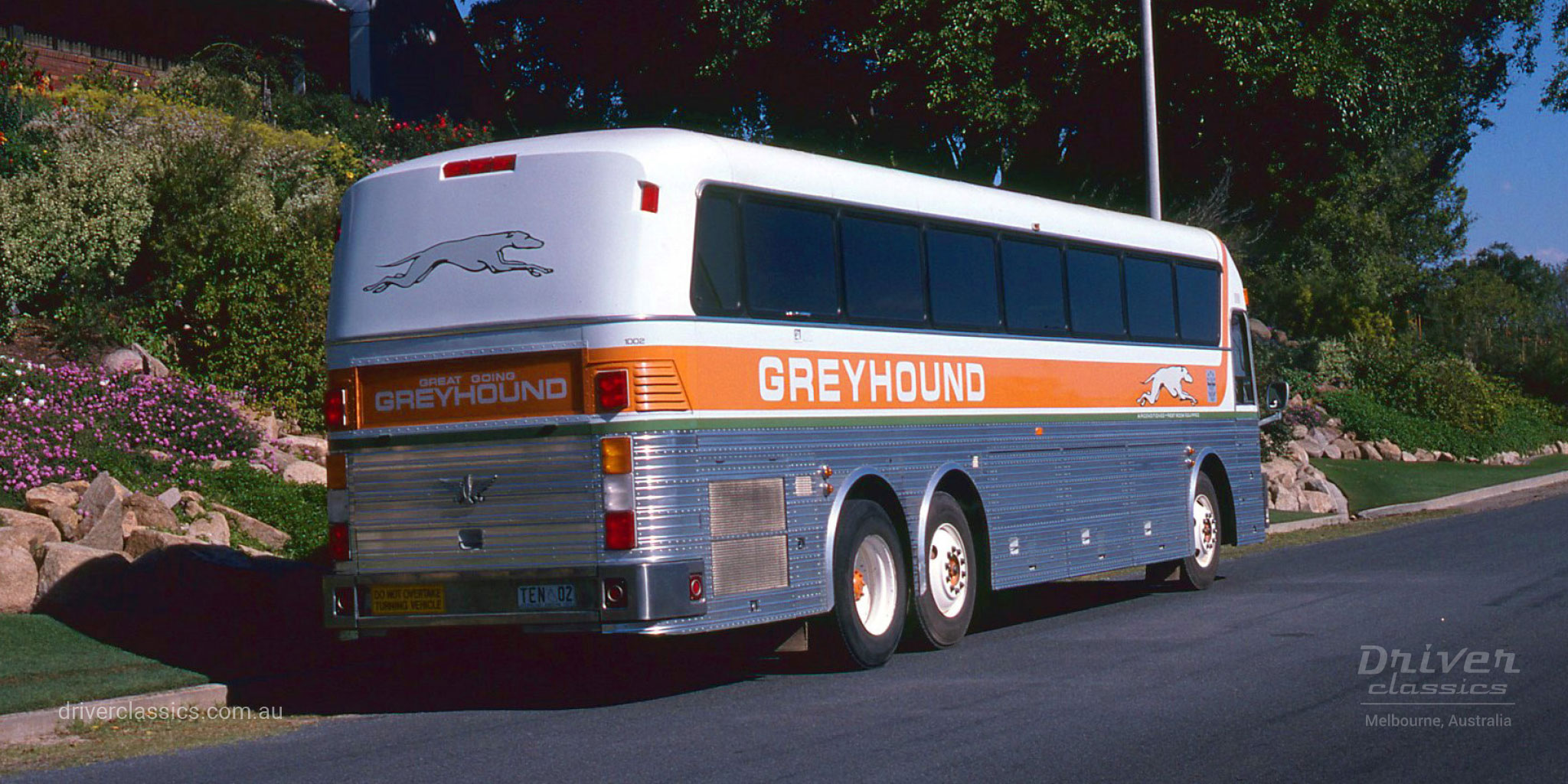 Both Greyhound's Eagles and Pioneer's MCIs were the flagship coaches for interstate express during the 70s and 80s in Australia, with both companies having routes that criss-crossed the country. Every long distance driver seemed to have an opinion on which coach they favoured, Eagle or MCI. One thing never disputed was the handling of the Eagle. The Eagle's 'torsilastic' torsion bar suspension prevented the coach from leaning in corners and provided outstanding handling and ride. The downside was that unless the shock absorbers were in top condition the Eagles were sometimes known to have a bucking motion in their ride.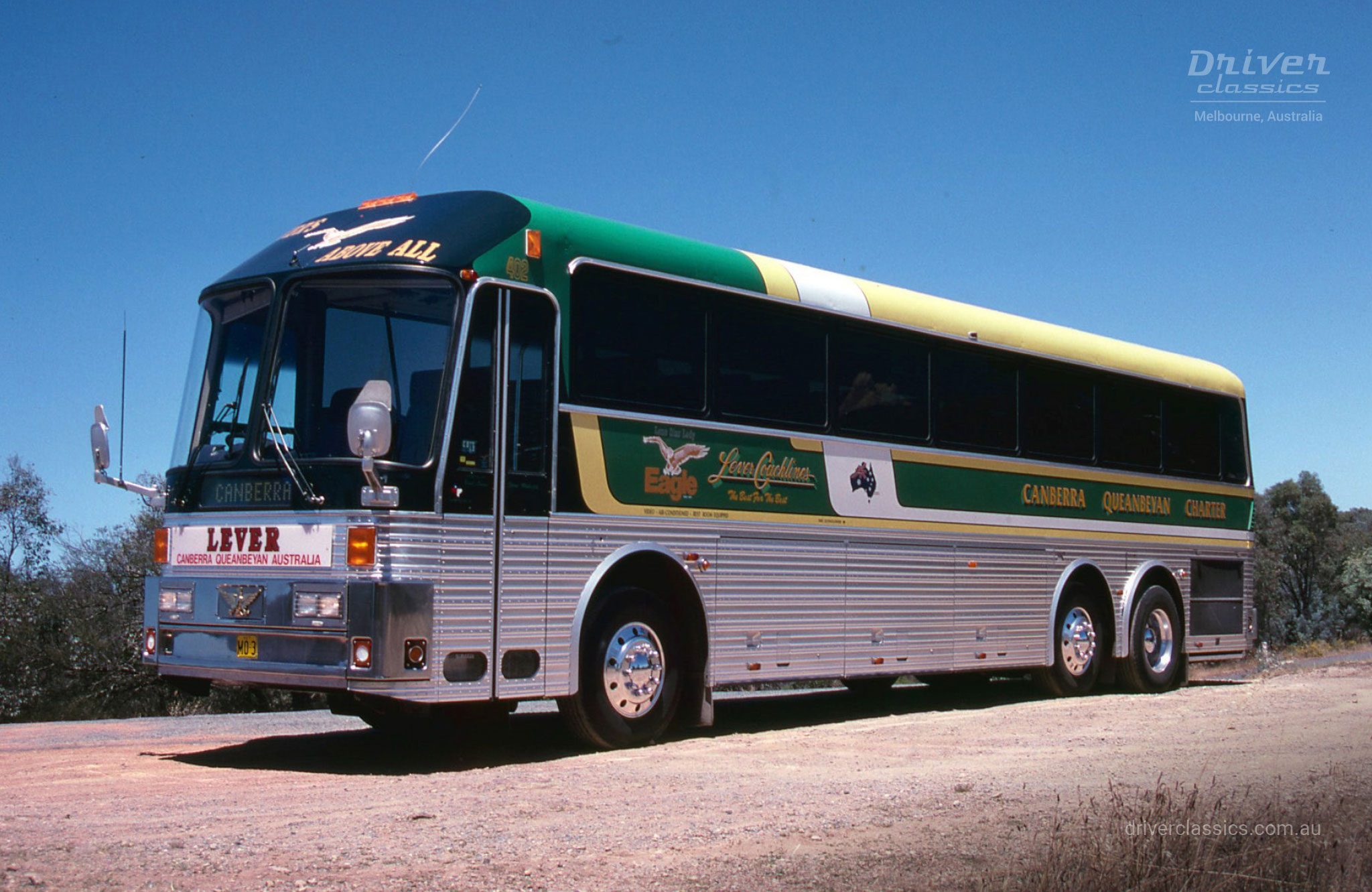 Our Eagle is a Model 20 built in Brownsville, Texas USA. Originally new to Lever Coach Lines, Queanbeyan NSW, later passing to Narooma Bus Lines, NSW and onto collector Rob Verhagen, Gold Coast, QLD, before being acquired by Driver Classics in 2014. It was the last Eagle delivered in Australia and although it is a Model 20, it was designated as a Model 10LT to avoid re-assessment for Australian Design Rule requirements, as it was essentially the same as the Model 10.
This Eagle Model 20 is powered by a GM Detroit Diesel V6 2 stroke diesel, 552ci model 6V92TA, rear mounted in-line, with an Allison HT750 automatic transmission.