1977 Kenworth W925 S2R
The legendary Australian made and engineered US truck
(Click on photos to enlarge) - Images free to share and distribute
The Story
Kenworth is an American based truck manufacturer tracing its roots back to 1905 when William Piggot formed the Seattle Car Manufacturing Co. to manufacture railcar and logging equipment. Seattle Car Manufacturing Co. merged with Twohy Brothers in 1915 to become Pacific Car and Foundry Co. In 1925 William Piggot sold control of Pacific Car to American Car and Foundry Co. Paul Piggot, son of the founder William Piggot, bought back a major interest in Pacific Car and Foundry in 1934.
Separately, Gerlinger Motor Co. launched its new Gersix truck in 1915. In 1917 Edgar K Worthington with partner Captain Frederick Kent bought Gerlinger Motor Co. renaming it Gersix Motor Co.
In 1923, Gersix reincorporated as Kenworth Motor Truck Company, now with partner Harry Kent, son of Frederick Kent. The name Ken-Worth was derived from the two major shareholders, Harry W Kent and Edgar K Worthington. In 1926, Kenworth started making buses as well as trucks and in 1933 introduced diesel engines as standard in their trucks.
In 1945 Paul Piggot of Pacific Car and Foundry acquired Kenworth Motor Truck Co.
Pacific Car and Foundry purchased US based Peterbilt Trucks in 1958, UK based Foden Trucks in 1981, Netherlands based DAF Trucks in 1996 and UK based Leyland Trucks in 1998.
In 1962, Australians Ed Cameron and George Blomfield imported seven GM Detroit Diesel 6V71 powered Kenworth S900s engineered for right hand drive into Australia and set up the infrastructure for continued importation. The first large order was placed by Ansett Freight Express in 1963 for two GM Detroit Diesel 6V71 powered Kenworth S921s and then in 1964, a further ten GM Detroit Diesel 8V71 powered Kenworth S925 prime movers.
In 1966, Pacific Car and Foundry, later to be called PACCAR, announced it would begin manufacturing trucks locally in Australia. Kenworth Motor Trucks was then incorporated and began assembling CKD (Completely Knocked Down) trucks. Kenworth Motor Trucks purchased 28 acres of land at Bayswater in Melbourne's east in 1969 to build a factory and office. In March 1971, the first all Australian Kenworth, a K125CR cab over, was built at the Bayswater plant. By 2017, Kenworth had manufactured 60,000 trucks at Bayswater and in 2018 the plant also began assembling DAF trucks.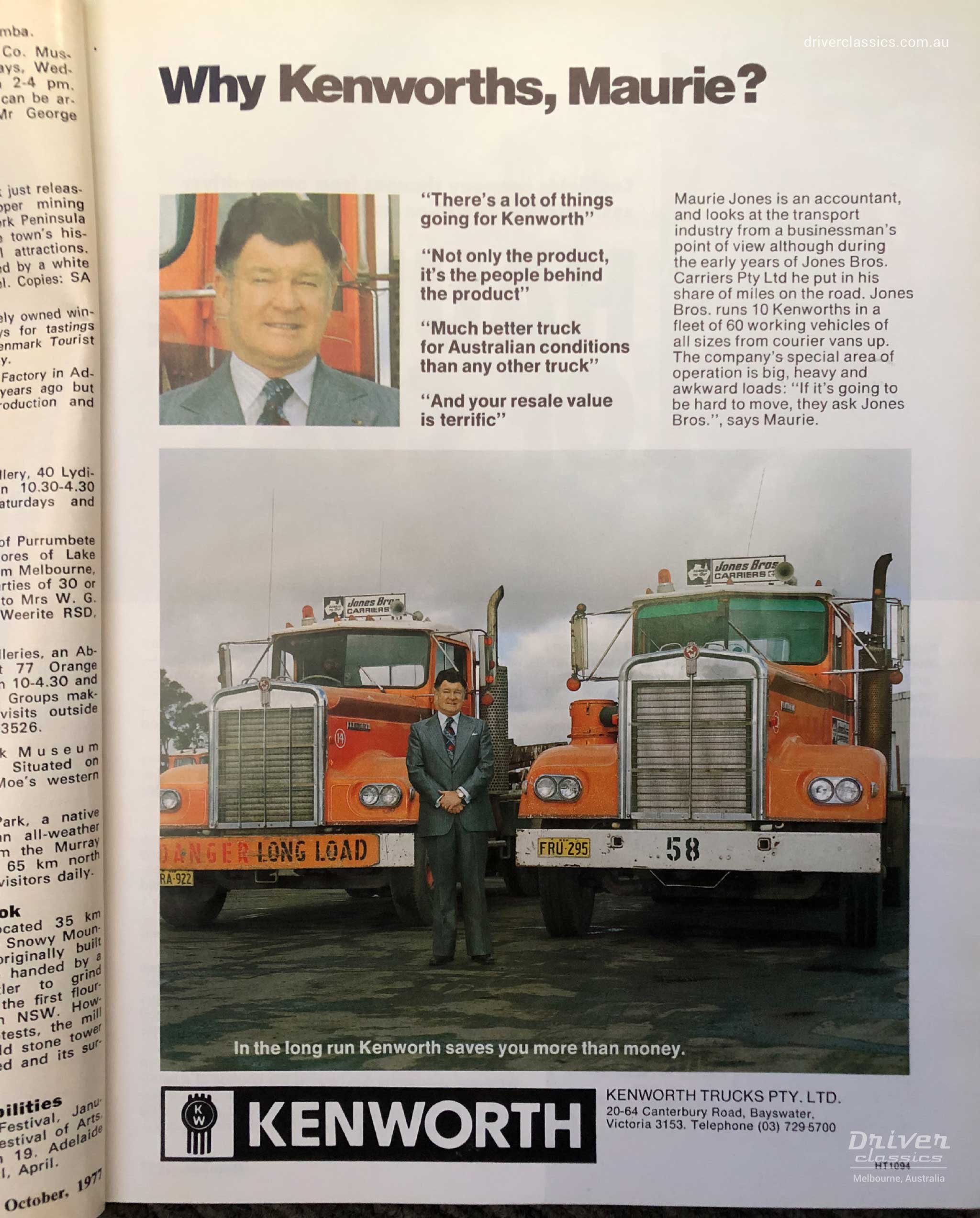 Driver Classics 1977 Kenworth W925 S2R was acquired in October 2009 from Yarragon Truck Centre, Yarragon, Victoria. It was originally built for Cronulla Carrying Company, NSW and featured a GM Detroit Diesel V6, model 6V71 engine.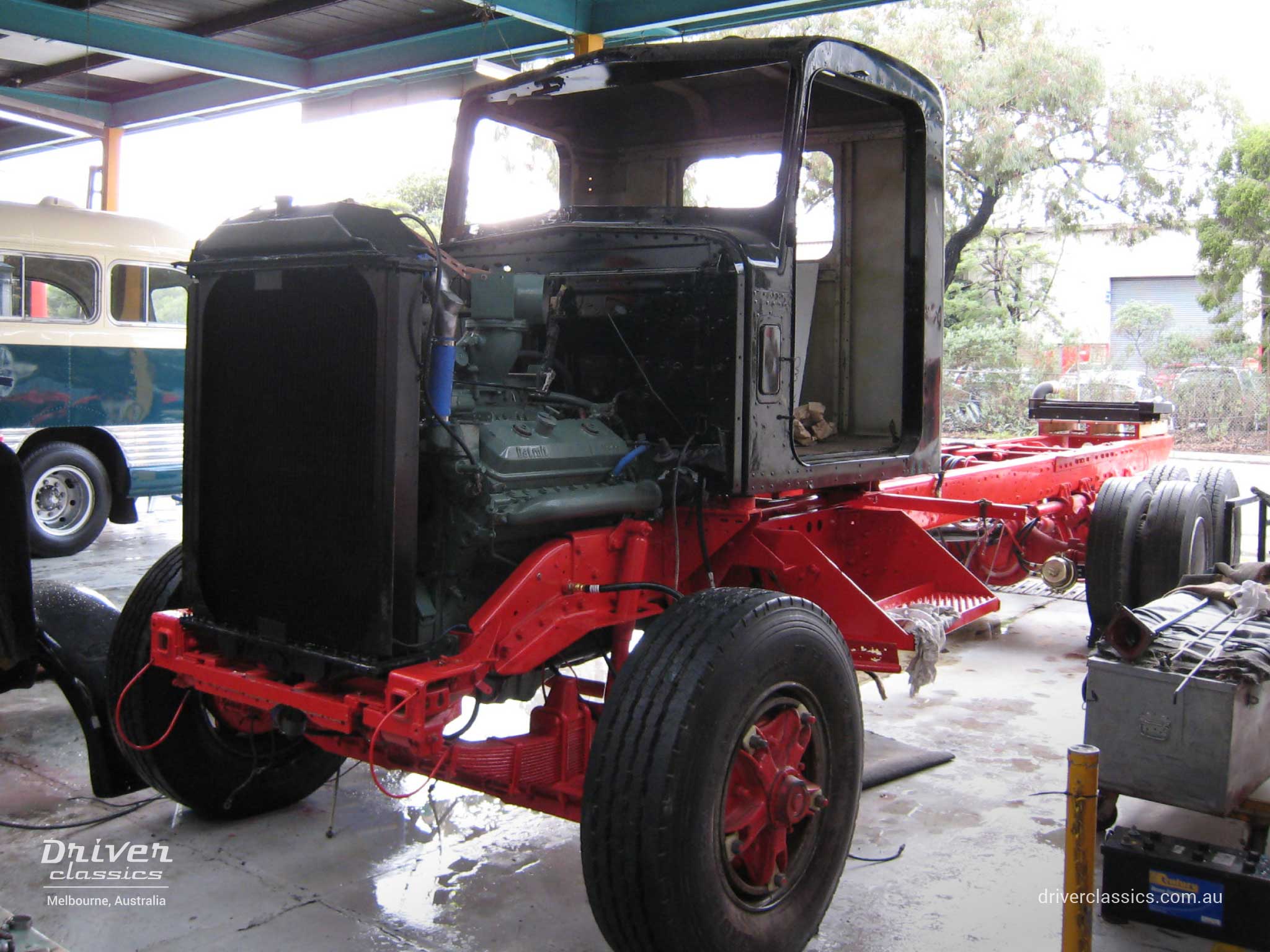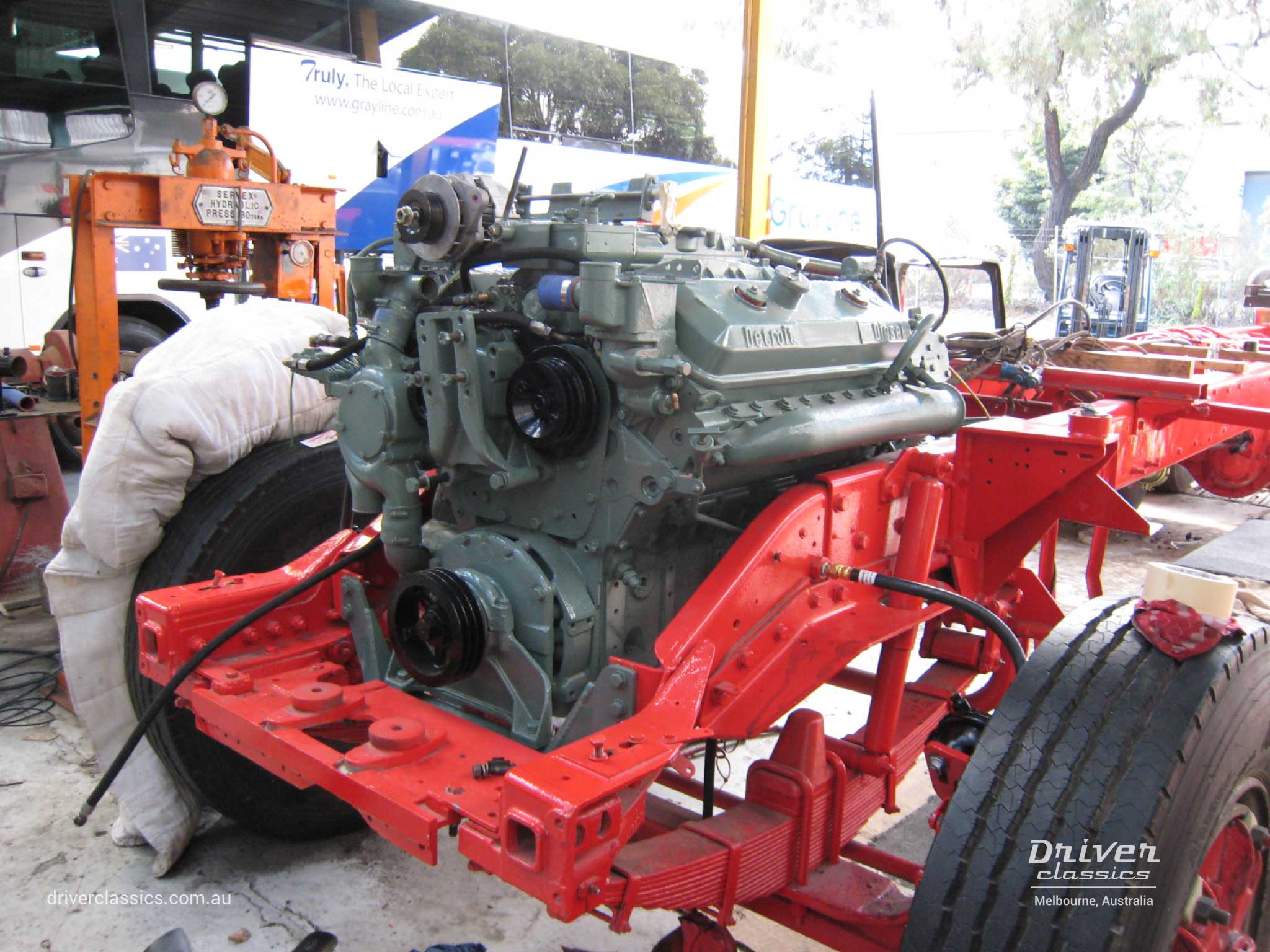 This W925 S2R had many modifications during its commercial life including lengthening the bonnet to accommodate a larger Detroit Diesel V8 engine and the chassis extended to enable a refrigerated van configuration. After acquisition by Driver Classics, the refrigerated van was removed, a ground up restoration carried out and a flat-bed tray fitted to the chassis. The cab of the W925 was white when purchased, then changed to black with a red chassis and finally to its current silver, still with the red chassis.
Our Kenworth W925 S2R is powered by a GM Detroit Diesel V8 2 stroke engine, 568ci model 8V71 with a 10 speed Eaton Fuller Roadranger transmission.