1946 Bedford OB
with Grice body
Basic and noisy...but Bedford OBs just kept going
(Click on photos to enlarge) - Images free to share and distribute
The Story
General Motors UK initially built Chevrolet light trucks and buses for the UK market but in 1931, GM UK launched the Bedford range of local light trucks and buses heavily based on the existing Chevrolet chassis. Bedford's origins date back to Vauxhall Ironworks, a company set up at Vauxhall, London in 1857 by Scottish engineer Alexander Wilson. Vauxhall moved to Luton, Bedfordshire in 1905 and was bought by American giant General Motors in 1925.
There is no known documentation as to why General Motors Vauxhall chose Bedford as the name of its new UK commercial vehicle brand, but it was most likely because of the location of Vauxhall's Luton plant in the county of Bedfordshire, in the east of England.
The Bedford OB was designed as a successor to the 1930s Bedford WTB. The first Bedford OB was built in 1939 but stayed in production for only 2 months, with just 73 being built, when all of Bedford's production was turned over to the war effort.
During the war years, in addition to truck production, Bedford produced 3,398 OWBs along with 5,640 Churchill tanks. The Bedford OWB was a war time austerity version of the Bedford OB combined with bodies that were even more austere. Bodies were designed by Duple and built by Duple along with other coach builders, to Duple's design.
Post war production of Bedfords restarted in October 1945. Bedford built 12,693 post war OBs in the UK with 'O' series production finally ceasing in 1953.
Unlike Australia where Bedford OBs were the most popular choice for private city route service operators, UK production catered for regional commuter service and charter operators. Bedford itself collaborated with Duple to develop the 'Vista' coach body for the Bedford OB chassis.
In Australia during the war years, General Motors Holden (GM-H) had been producing the Chevrolet 'Blitz' truck for the Australian Army. Following the war in 1946, GM-H introduced the Bedford O series of truck and bus chassis to the Australian market. Australian bus body builders such as Grice, Syd Wood and others built bodies on these conventional (engine out front) chassis as was done with this Driver Classics example of the Bedford OB with a Grice body. In 1947, GM-H introduced its own GM-H designed body on a GM-H modified forward control (flat front) OB bus chassis ending the practise of other builders offering their bodies on Bedford OB bus chassis. However, they were able to continue building bus bodies on the Bedford O series truck chassis but they had limited success.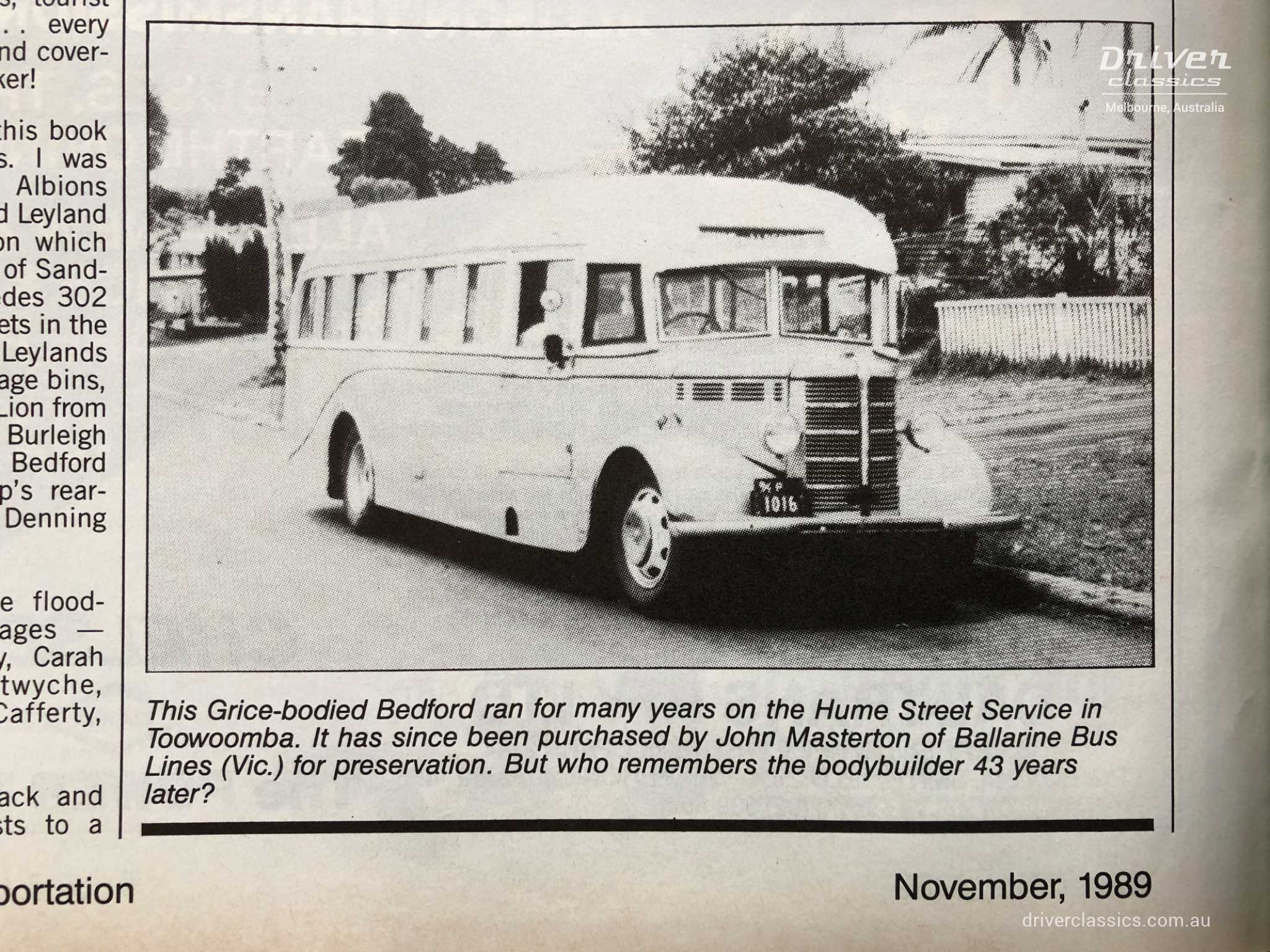 Our 1946 Bedford OB with Grice body originally operated in Toowoomba, QLD until the mid 1970s. It was subsequently acquired by John Masterton, a bus enthusiast and owner of Bellarine Bus Lines with John then completing a superb restoration. Driver Classics purchased the Bedford OB from the Masterton family in July 2000.
This Bedford OB is powered by a Bedford 214ci, 6 cylinder, petrol engine with a 4 speed constant mesh transmission. Bedford's OB model designation signifies 'O' as the model series and 'B' for bus.