1988 Denning Landseer
( Build #1318, Fleet #58)
The Denning Landseer retained all that was good about the GM Denning Mono but added more style and substance
(Click on photos to enlarge) - Images free to share and distribute
The Story
Improving on the very successful GM Denning Mono was always going to be a challenge.
Spanning over 12 years from 1972, the GM Denning Mono had catapulted A B Denning and Co, then owned by Jaguar Rover Australia (JRA), to become the number one seller of premium coaches in Australia. To make improvements on this model was risky, as conservative Australian operators loved the style, performance and reliability of the GM Denning Mono.
But Denning knew it had to take the long serving GM Denning Mono to another level and come up with a coach that was truly world class.
In late 1984, Denning unveiled its magnificent 'Landseer' coach; a stunningly beautiful coach that retained all that was good about the Mono but added new flair and style, and backed it up with even more substance.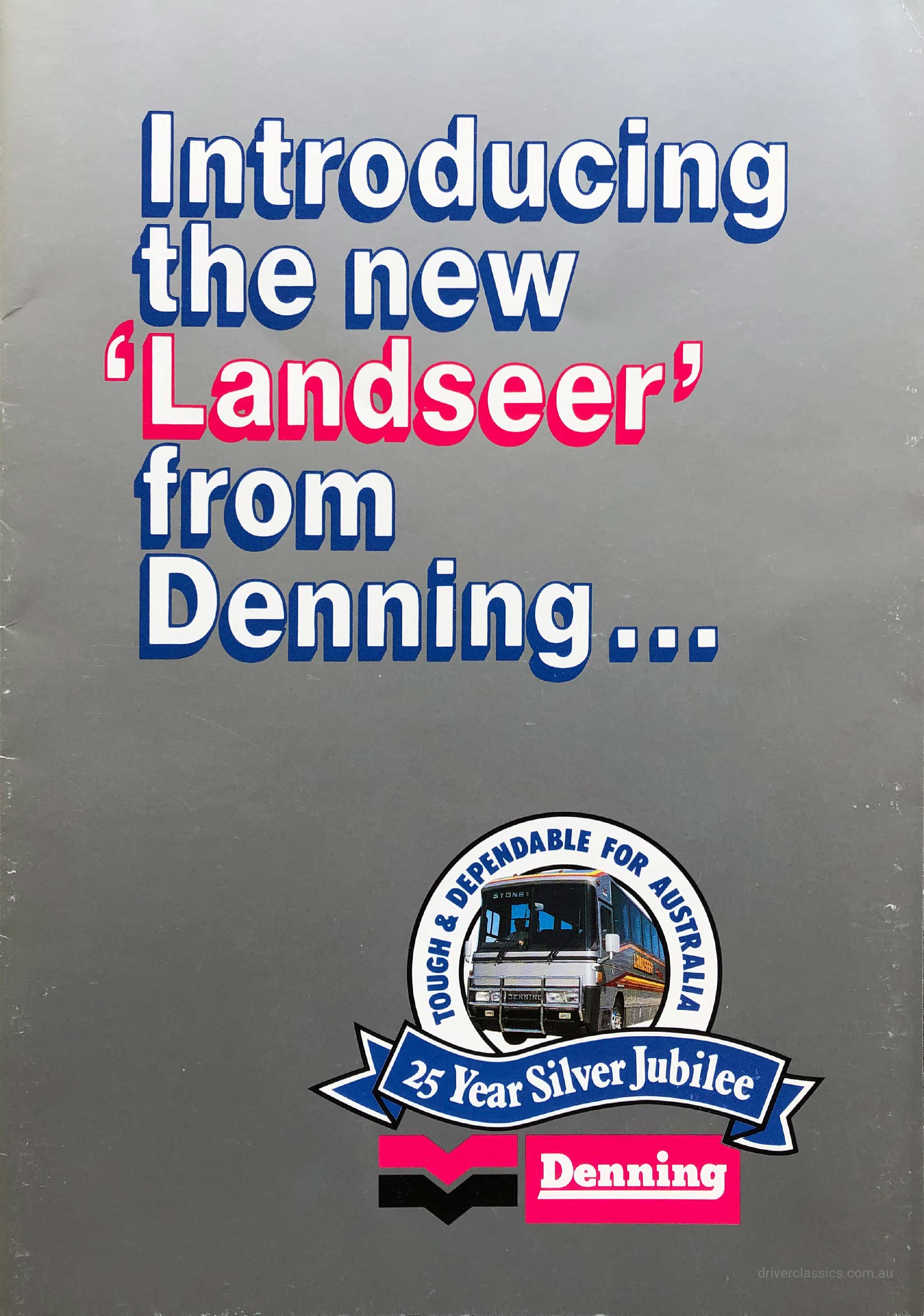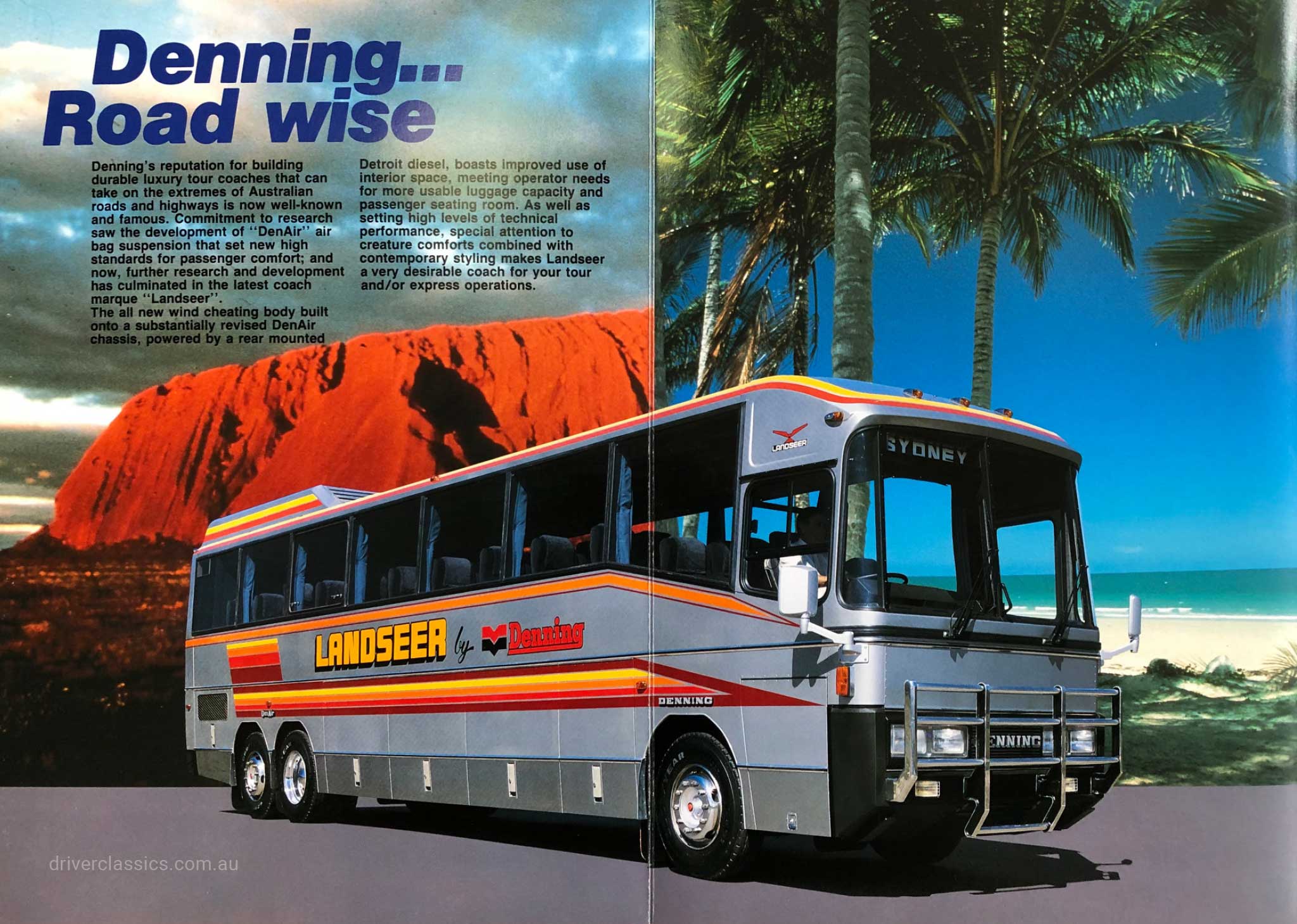 The Landseer offered a new and fresh design. Gone were the traditional deck-and-a-half styling, visible pillared windows and most stainless steel bright work. In its place was a wind tunnel tested aerodynamic, smooth sided coach with higher windscreens, flush side glazing and even a streamlined roof mounted air conditioning pod. This resulted in not only a great appearance, but in significant fuel savings too.
The interior was extensively upgraded with a myriad of high quality trim and material choices available to enable customisation of every Landseer.
The standard engine was the GM Detroit Diesel 310hp Silver 6V92TTA turbo mated to a Spicer 6 speed transmission. Available options were the GM Detroit Diesel 8V71 or 8V92 turbo engines with a 6 speed Spicer or Allison automatic transmissions. The standard engine was soon upgraded to a GM Detroit Diesel 350hp Silver 6V92TTA.
The name Landseer, chosen by Denning to replace the 'DenAir Mono' name, was derived from one of two sources or a combination of both. For a tour coach, a derivative of 'land-seeing' seemed quite appropriate, but perhaps the most obvious explanation, although less romantic, is that Landseer also happened to be the name of the street where the Denning plant at Acacia Ridge, Queensland was located.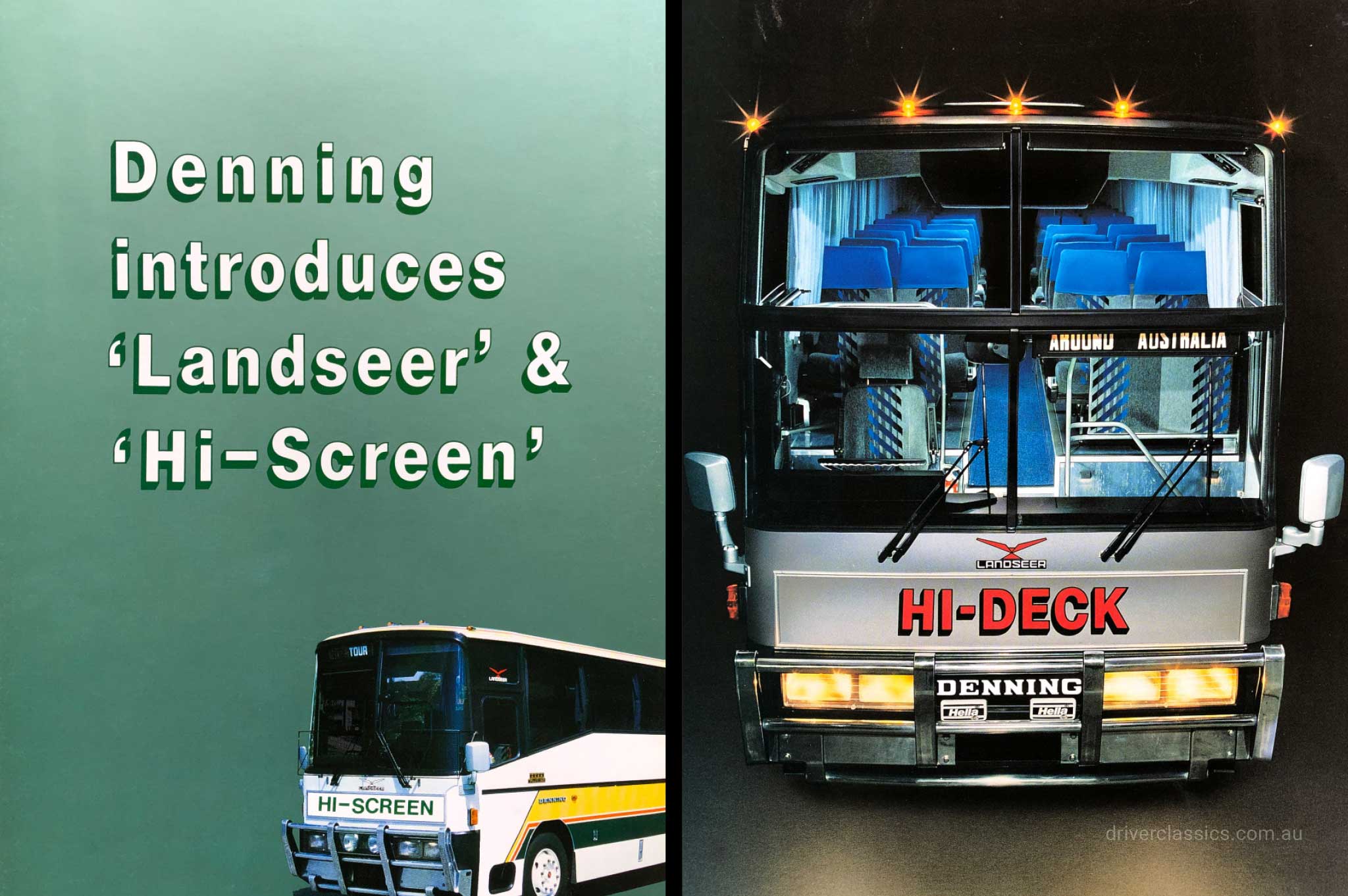 The standard Landseer was soon followed with different versions to cater for all perceived operator requirements: The 'Landseer High Screen', the 'Landseer High Deck' with twin front screens, the 'Double Deck' and a 'Majestic 11' body for alternate make chassis'.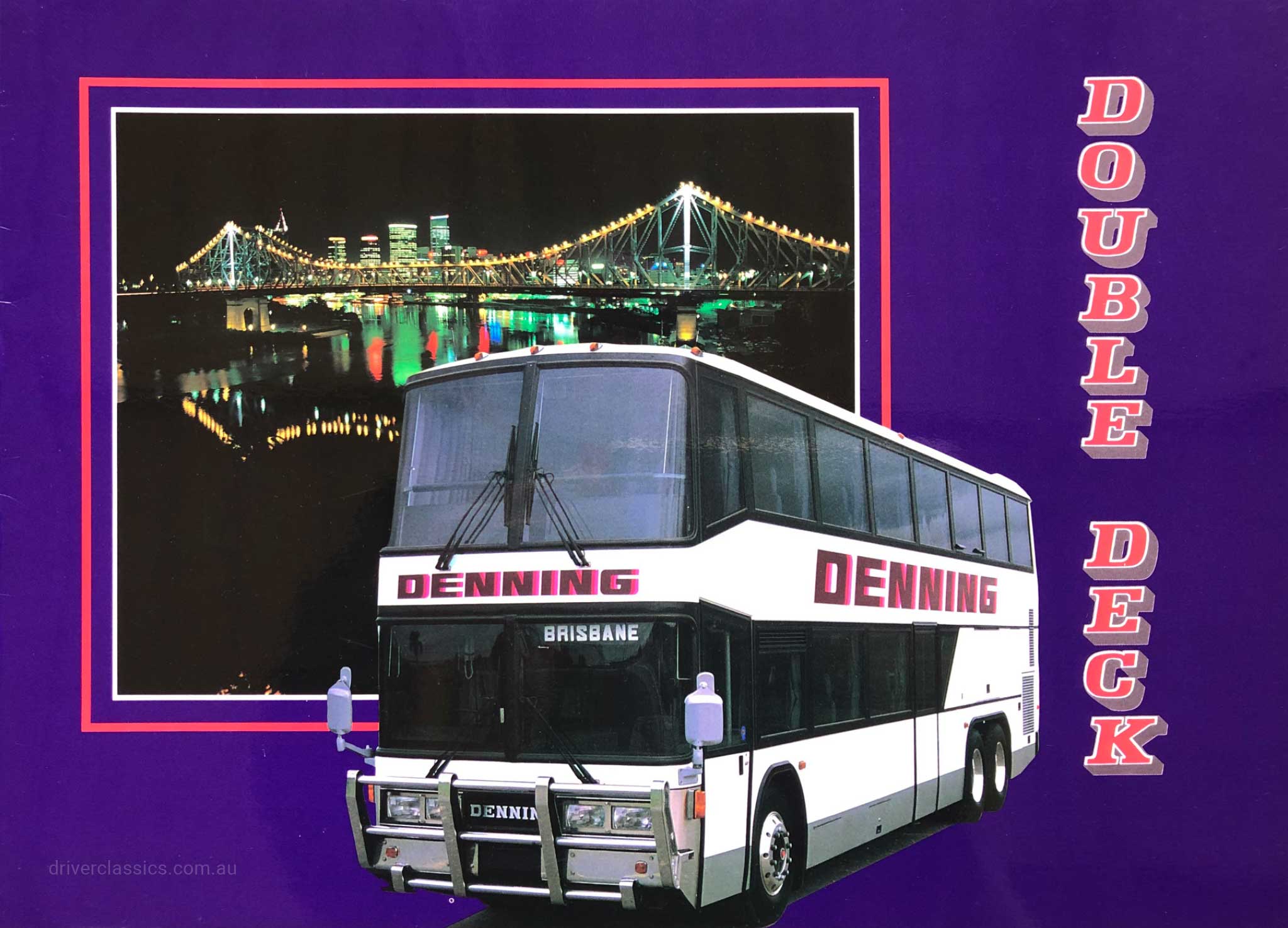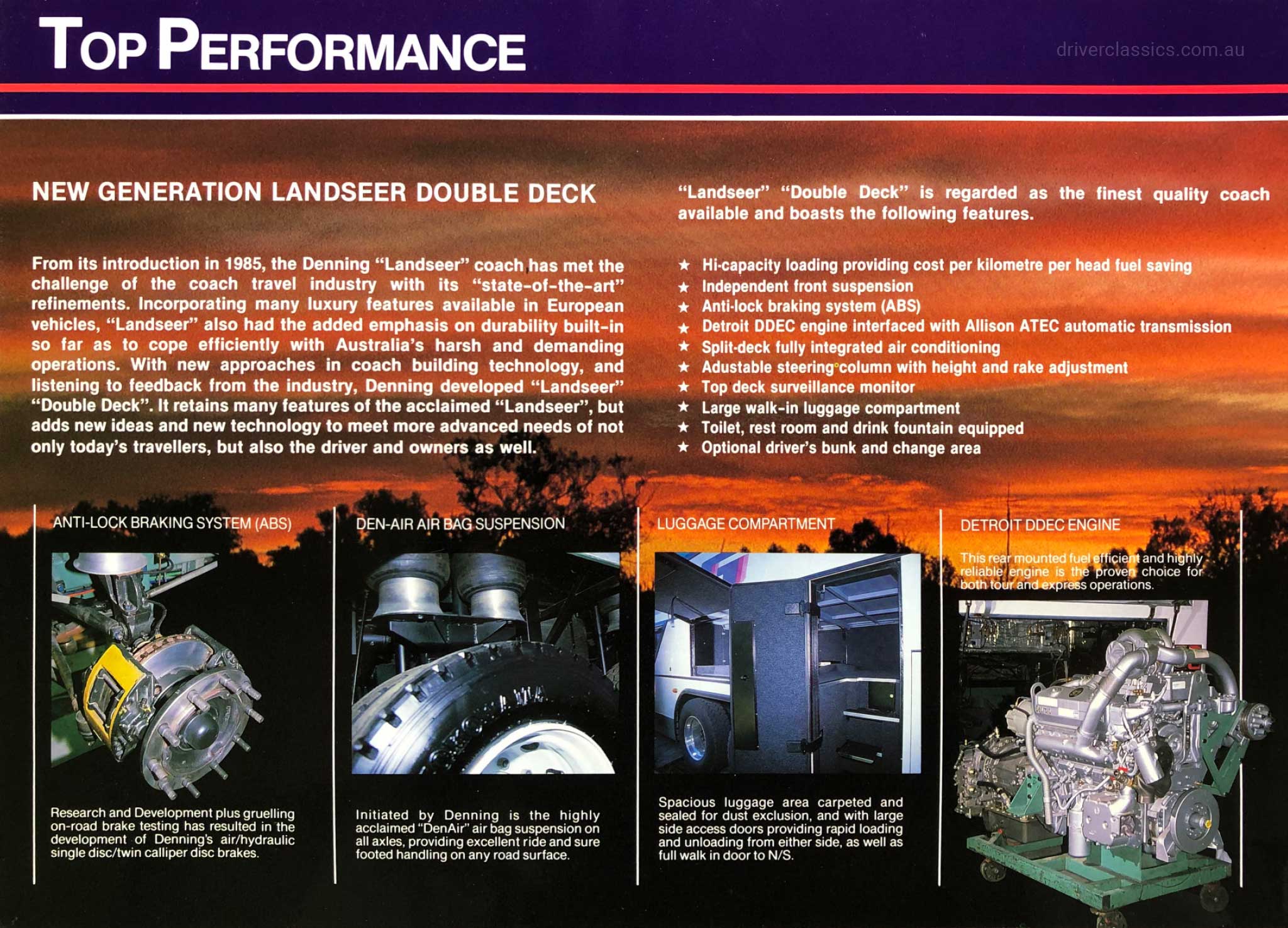 Perhaps the biggest compliment to Denning was the take up of the Landseer by Australia's largest interstate operator at the time, Ansett Pioneer. Ansett Pioneer had preferred imported US coaches from GM and MCI, and would not consider local products as they believed they did not measure up…until the Landseer arrived! Ansett Pioneer wasted no time in ordering a significant number of Denning Landseer's which in turn closed the door on importing US coaches into Australia.
In December 1992, Driver Bus Lines with a number of new Denning Landseer's already successfully in service, purchased a 1988 Denning Landseer #1318 from Melbright Coaches when that operator sold out.
This Landseer was originally built for Kingston's, Stawell VIC by Denning at Acacia Ridge, Queensland in November 1988 and generally had the same specification as other Driver Bus Lines Landseer's. This included 48 Denning 'Easy Ride' reclining seats, restroom and a carpeted floor.
It became #58 in the Driver fleet and was originally painted in the 'Gray Line Melbourne' colours of the early 1990s. Its primary role encompassed extended tours around Australia and providing back-up on day tours in Melbourne. The livery was updated again in the late 1990s with the same Gray Line colours but now with 'Gray Line' only branding to reflect the national reach of Gray Line in Australia.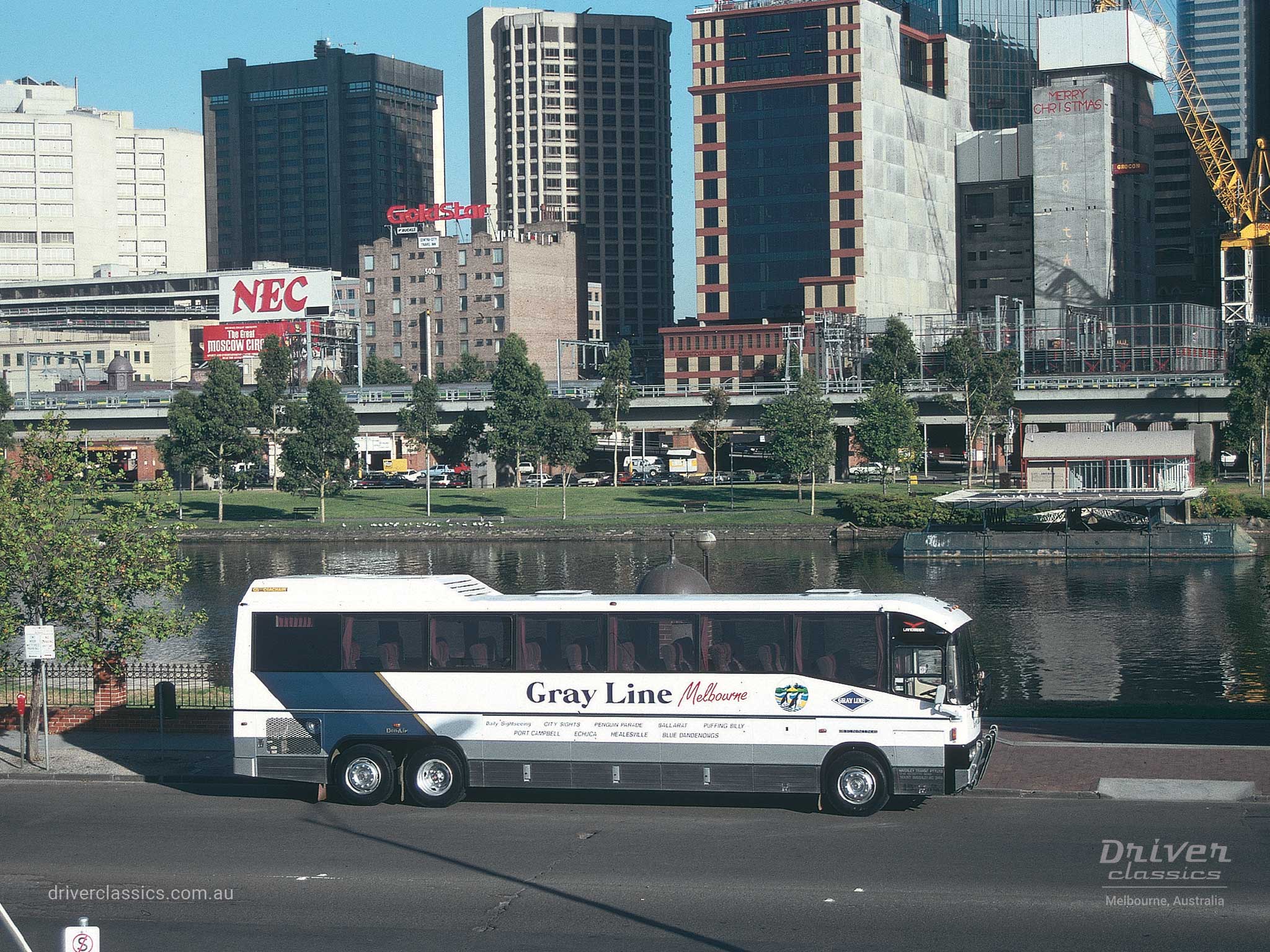 In January 2001, #58 was extensively refurbished and reconfigured to 57 non reclining seats without a rest room enabling it to transition to local charter and school services. It later adopted the Driver 'swoosh' paint scheme which it would keep for the remainder of its commercial life. By early 2020, at 32 years of age, #58 was still in limited commercial service, but in June 2020 during the global Covid-19 pandemic, it was retired from commercial service and joined the Driver Classics heritage fleet. It currently holds the record as the longest serving Driver vehicle in commercial service since 1931.
This Denning Landseer, build number 1318, is powered by a GM Detroit Diesel turbo V6 2 stroke engine, 552ci model Silver 6V92TTA, rear mounted in-line, with a 6 speed Spicer constant mesh transmission.