1929 Pontiac 29-6
with Holden Tourer body
Simple and small - but it did the job... just!
(Click on photos to enlarge) - Images free to share and distribute
The Story
Pontiac was a brand established in 1926 by General Motors in the USA as a companion make to GM's more expensive Oakland brand. Pontiac was named after a famous Indian chief as was the town of Pontiac, Michigan where they were built.
Eric and Reg Driver's first two vehicles were Pontiac 29-6s with Grant Brothers 7 passenger bodies and they operated on the Camberwell – Glen Iris service in Melbourne's south east, commencing on March 31 1931.
The small Pontiacs were known as 'cabs' and they were built on a standard car chassis with a specially constructed small cab body. The bodies were built by Eric and Reg Driver at their father's bodyworks, Grant Brothers in Station Street, Malvern - a suburb of Melbourne. Both Eric and Reg were experienced body builders and had worked for their father building bodies, before deciding to become cab operators.
The twenties and early thirties in Australia saw private transport operators commonly use small cabs on fledgling route services. Multiple operators were able to work on a particular route and fierce competition ensued. There were 11 cabs including Eric and Reg Driver working on the 3 mile Camberwell-Glen Iris service.
The original 7 seat cabs were configured with one seat up front next to the driver, three seats each side facing inwards and a full height door at the rear. Passengers would pass money forward to the driver to get a ticket.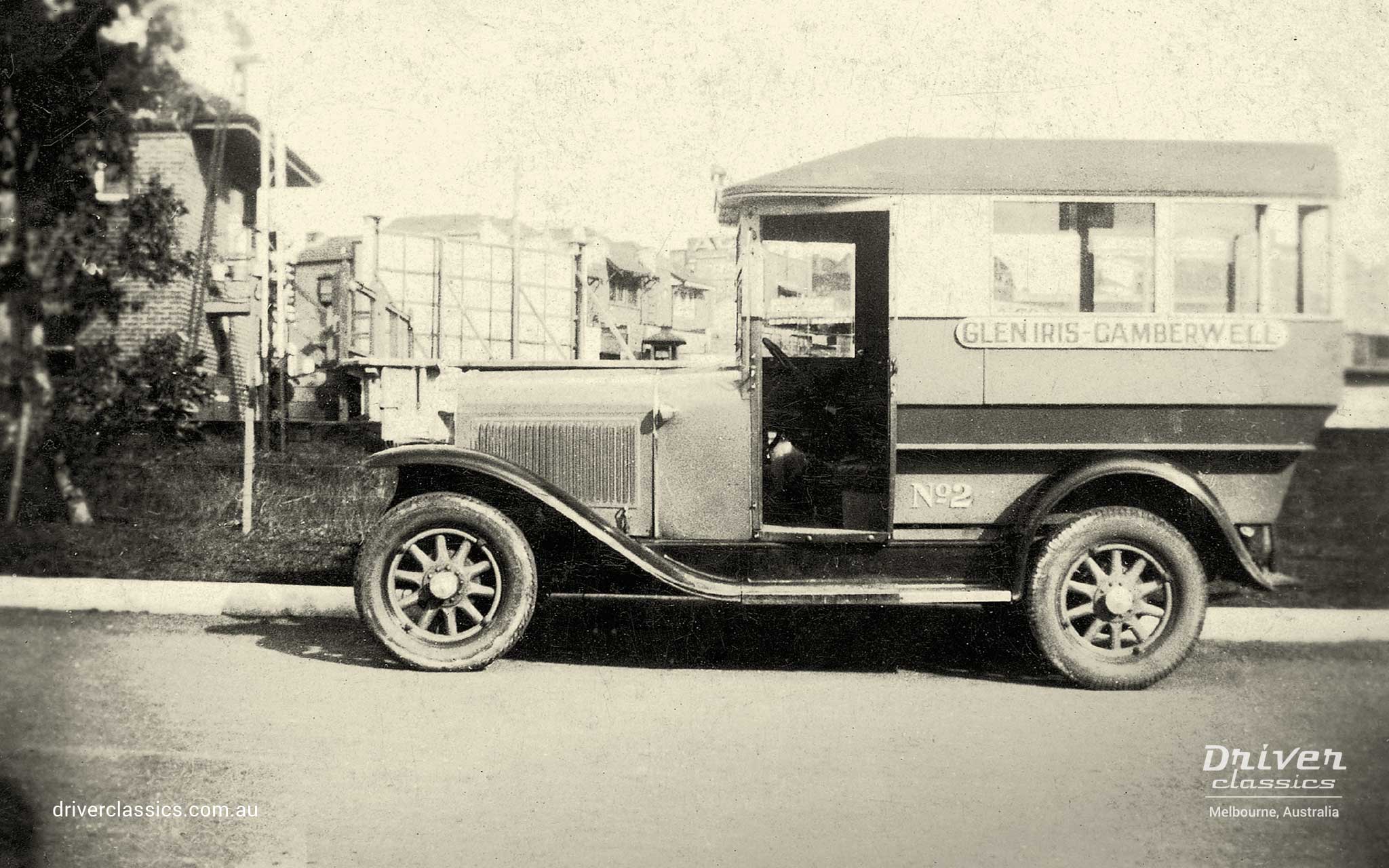 The cabs offered frequent service but timetables were loose or non-existent as the aim was to compete to maximise passenger numbers. The Driver Brothers tried to introduce a timetable but competing operators would run a few minutes ahead of their scheduled time making it impractical. Long hours were worked on each shift to attempt to make the business viable.
The Camberwell-Glen Iris 'cab' service was declared a gazetted 'bus' route with the Driver Brothers gaining a license to operate the new bus route in 1934. A timetable was reintroduced and all but one of the competing operators abandoned the route. Shortly after, Driver Brothers acquired the remaining operator and became the sole operators of the route.
Between 1931 and 1934, Eric and Reg had acquired one of the other operators Cleveland cab and purchased an additional GMC cab. So when the Camberwell-Glen Iris service was declared a bus route, all four of the Driver Brothers cabs were replaced by two 12 passenger Bedford WHB buses with Grummet bodies.
Driver Classics acquired this Pontiac 29-6 in October 2003 from Ragtop Tours on the Mornington Peninsula, Victoria where it was operating 'niche market' local tours. It features a Holden built Tourer body seating 5 people and is representative, not an exact version of Eric and Reg's original Pontiacs.
This Pontiac 29-6 is powered by a Pontiac 200ci, 6 cylinder, petrol engine with a 3 speed constant mesh transmission. The accelerator is positioned between the clutch on the left and brake pedal on the right, which was typical of pedal layout in this era.