1983 GM Denning DenAir Mono
(Build #955, Fleet #4)
An Australian designed and built coach that could hold its own against imported rivals
(Click on photos to enlarge) - Images free to share and distribute
The Story
Denning was Australia's most successful coach manufacturer from the early 1970s until the early 1990s, with operators nationwide purchasing GM Dennings. They had style, outstanding road performance, durability, reliability and although expensive compared to other vehicles of the day, they were still within reach of many coach operators. It was the coach that a large number of Australian operators aspired to, including Driver Bus Lines.
Founder Alan B Denning started out as a panel beater in 1950 and in 1956 began building bus bodies under the name of A B Denning and Co. Initially Denning built side loader bus bodies and in 1960, the first A B Denning coach body was built. Denning then focussed on chassis conversions with many front engine chassis' becoming rear engine chassis' to meet a demand for rear engine coaches that was not satisfied by suppliers at the time.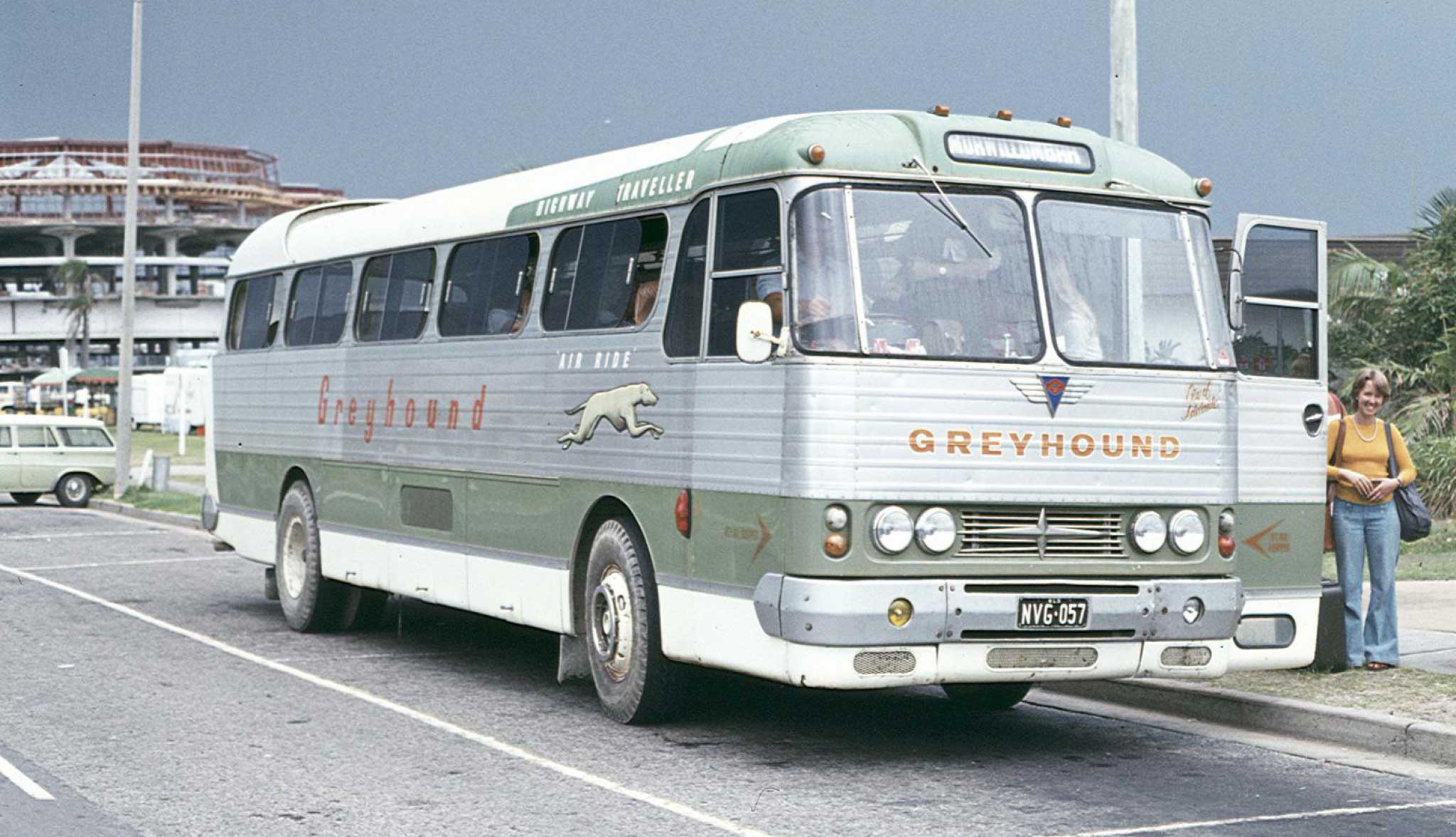 In 1962, Denning released its first body-on-chassis coach which became known as the Highway Traveller. The Denning Highway Traveller had some subtle styling inspiration from the US 1950s GM PD 4104 Highway Traveller and also had design input from customers Rex Law of Redline and Russell Penfold of Greyhound, both buyers and supporters of early Denning products.
Denning then further refined and modernised the Highway Traveller into a new design that it would continue to build until the introduction of its next landmark model.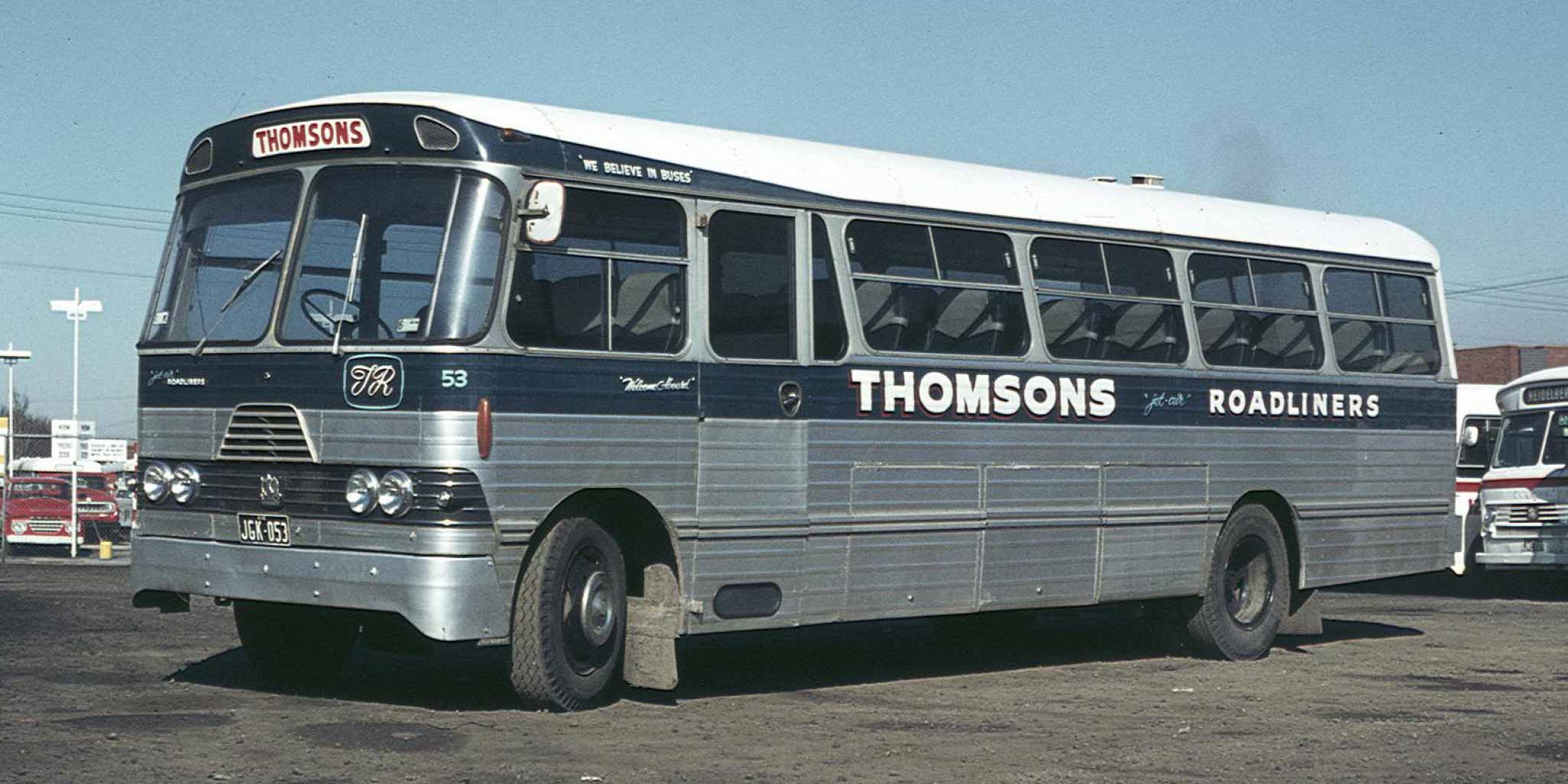 Then in 1966, Denning's bold Square Line body-on-chassis design was introduced and in September of that same year, Denning built its first integral coach - the GM Denning Mono, also featuring the Square Line body design. This first GM Denning Square Line mono coach was built for Grendas in Dandenong, Victoria and it boasted a prominent new styling feature…a raised roof deck-and-a half design which had the benefit of more under floor luggage bin capacity and better passenger vision. With its fluted aluminium panels and GM Detroit Diesel 6V53 power, it was absolutely stunning.
Alan Denning sold A B Denning and Co to UK firm Leyland in 1969 and Alan then took on the role as Denning's Managing Director until 1971, only to return again as Managing Director in 1973. In 1971, Denning introduced another model series, now often referred to as the Classic series, following on from the early Highway Travellers and the Square Line. It also introduced its second generation GM Denning Mono integral coach which grew rapidly in popularity eclipsing sales of body on chassis models. The GM Denning Mono was conceived to be a simplified and affordable version of the imported American GMs that Ansett Pioneer purchased during the 1960s. The only visible exterior branding on early edition Denning Monos was GM, which certainly signified its intent and pedigree. After Alan Denning permanently departed A B Denning and Co in 1976, the GM branding was dropped, however the industry always did, and still does, refer to the Mono as the GM Denning.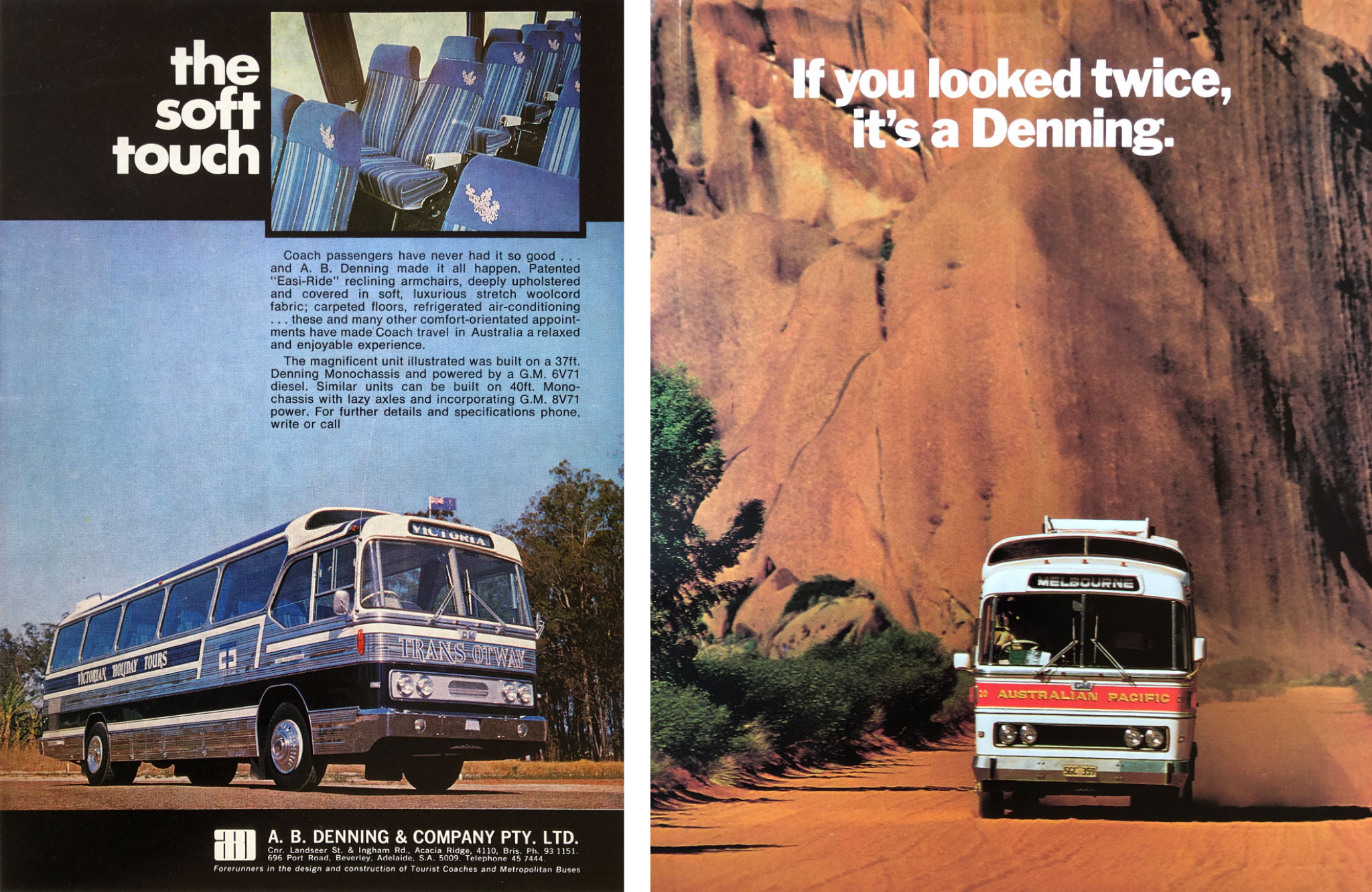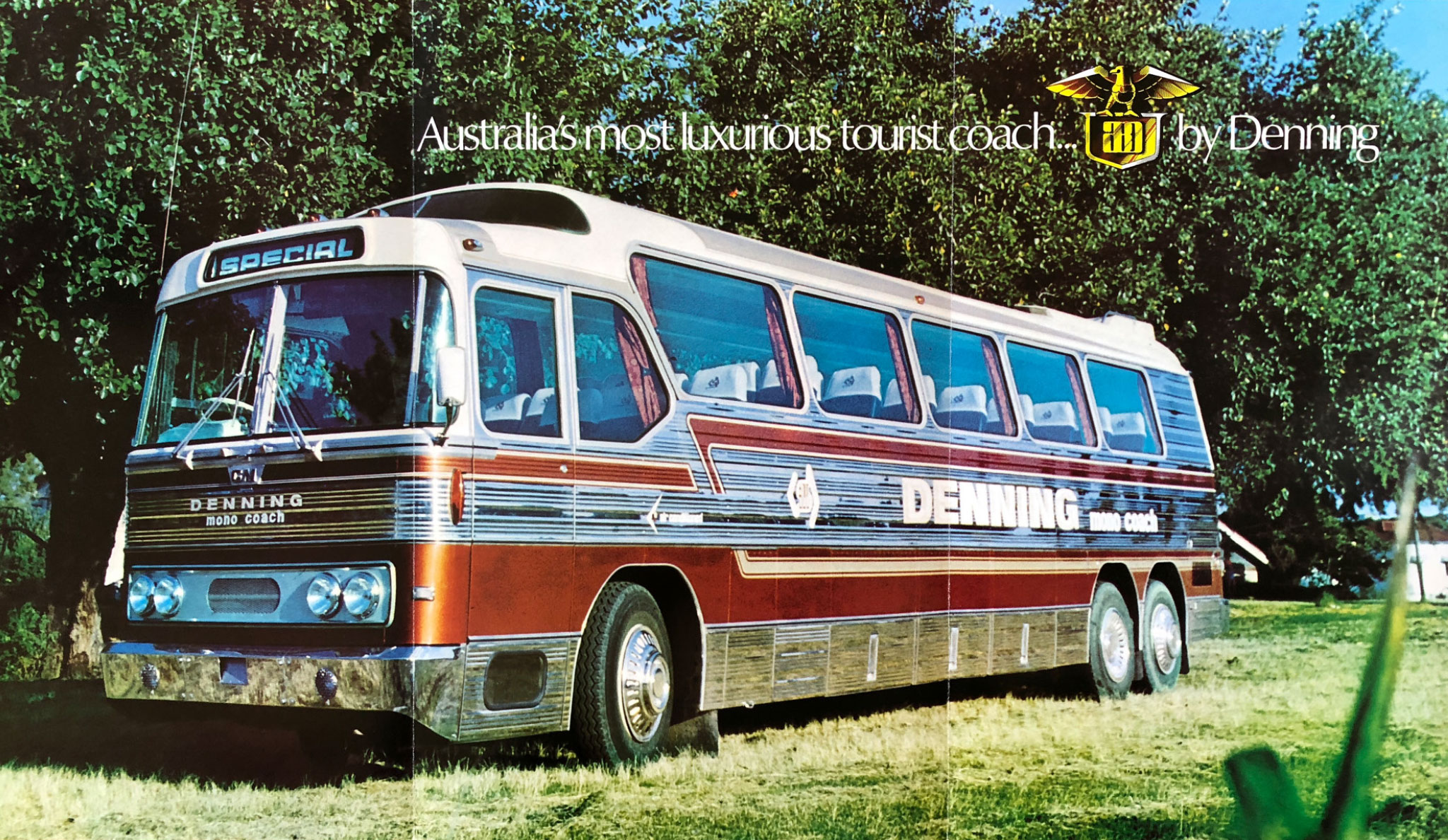 The Classic series GM Denning Mono was to become arguably, Denning's greatest ever design and certainly its longest series in production. This latest GM Denning Mono appeared relatively conservative compared to the Square Line with a smooth, more rounded styling theme and a prominent deck-and-a half design that took inspiration from the imported GM PD 4107. It firmly placed Denning on the map and at the top of most company's fleet purchase list.
Billed as 'The Magnificent Australian' with its large chrome bumpers and high shine stainless steel side panels, the 1971 GM Denning Mono made a strong statement about Denning's design and the capability of Australia to build world class coaches. It was a true head turner, and commanded attention from the outset.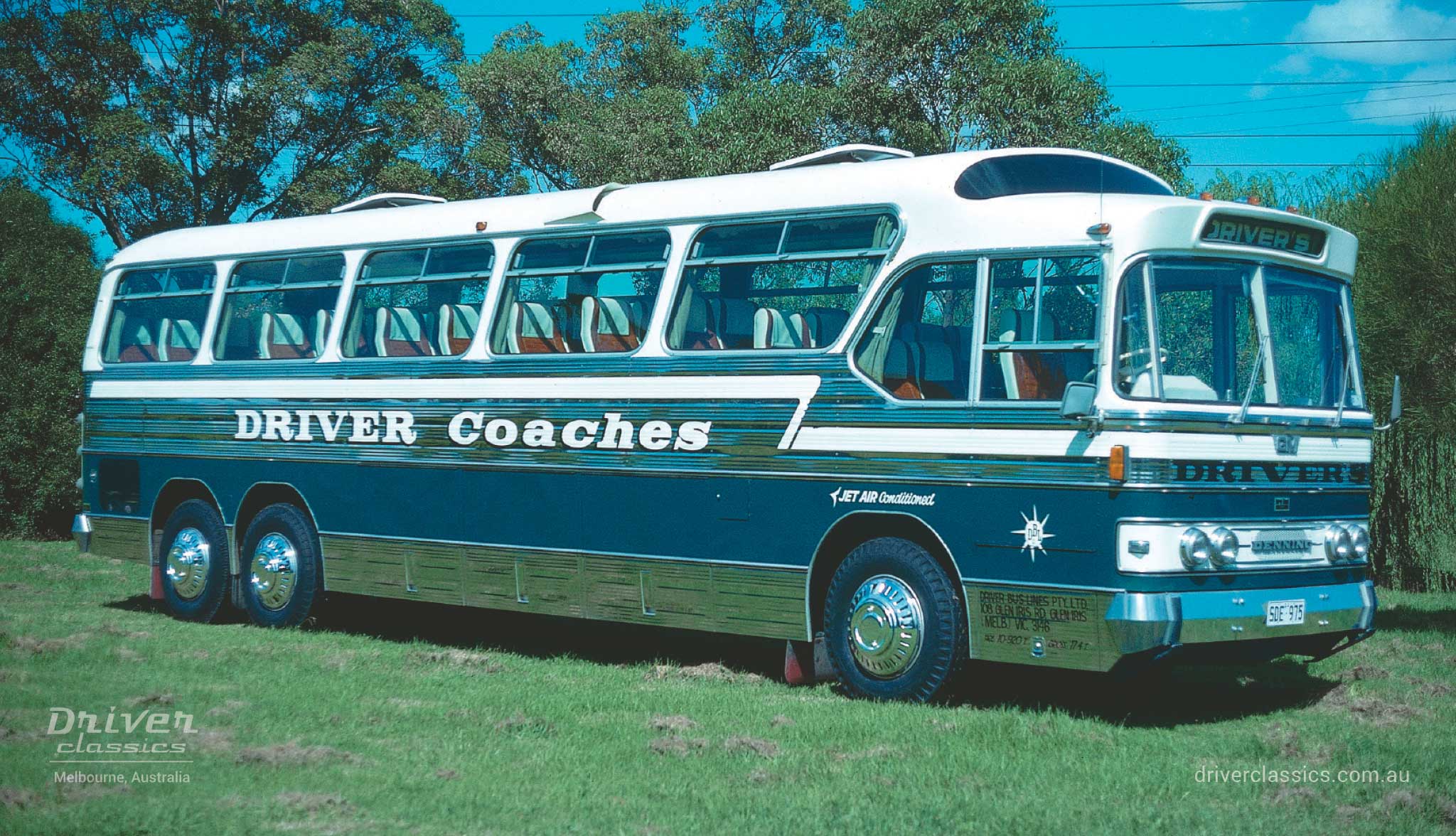 After Alan Denning's departure in 1976, he partnered with Athol McKinnon to create the Denmak coach, a new version of the integral Monocoach. The partnership was short lived but the coach was not. The Denmak became the Domino Tourmaster and later the Austral Tourmaster and was in production for just on 20 years.
The first update of the classic series GM Denning Mono occurred around 1976 when a new forward sloping destination header was introduced, a wider front grille, a 2 piece rear window with a single centre divide replacing the 3 piece rear window, new front and rear aluminium bumpers replacing the large chrome bumpers, elimination of the roof window resulting in a non-see through deck-and-a-half design and full exterior 'Denning' only badging.
GM Denning Monos were extremely robust with leaf spring suspension, and in the new 3 axle 40 foot configuration, first introduced to Australia by Ansett Pioneer's imported MCI MC7, the tag or lazy axle was air suspended. By 1978, Denning was offering an air over leaf suspension system which soon gave way to Denning's first fully air suspended coach – the 1979 GM Denning DenAir Mono. In those days, Denning had the ultimate research and development regime – relentless travel in the remote Australian Outback under the most gruelling conditions imaginable, carried out by Denning's own engineers. It was this severe testing and its' on road prowess that earned Denning its reputation for ruggedness and durability.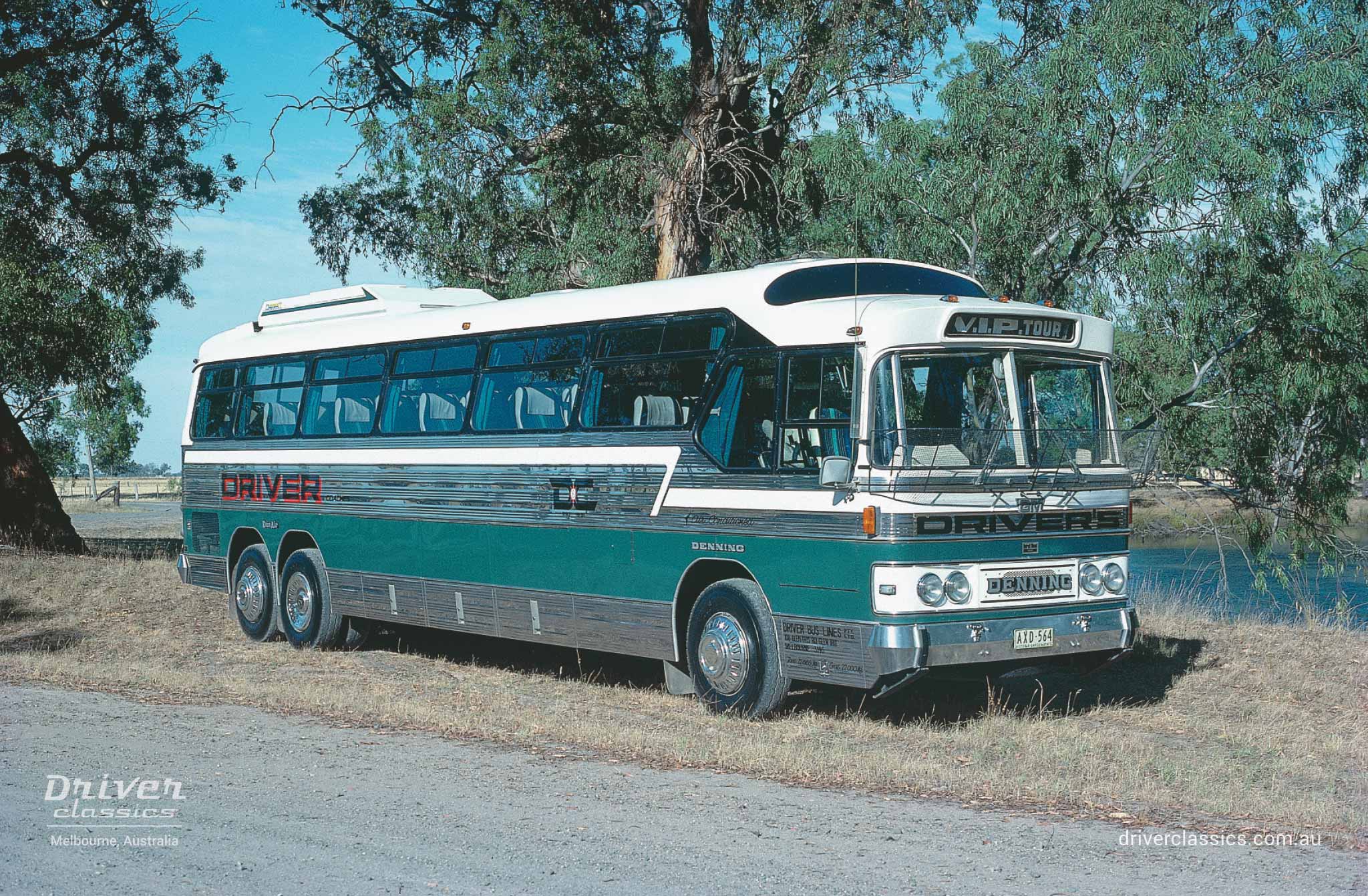 Also in 1979, Denning released its Denflex 'chassis-only' model for other builders to construct bodies on.
Throughout the 70s and 80s, the standard Denning power plant was a GM Detroit Diesel engine, being either a V6 model 6V71 or a V8 model 8V71, usually mated to a Fuller T905D 5 speed transmission. Around 1980, Denning began offering a large V6 GM Detroit Diesel engine in forty foot long coaches, model 6V92TTA as an option to the tried and true V8, model 8V71 engine.
The GM Denning Mono was marketed from 1971 until 1984 when it was replaced by the new, world class Denning Landseer. The final interpretation of the GM Denning Mono was perhaps the most notable with the deck-and-a-half roof line being brought further forward than its predecessors, giving quite a distinctive appearance. Other updates included a new dashboard that was to carry over to the Landseer, electric wipers replacing air operated, 4 tail lights instead of 3, a larger windscreen and a new front bumper and grille.
Our superb example of a GM Denning DenAir Mono was purchased new by Driver Bus Lines in 1983, as fleet # 4, and remained in service until 2008, making it one of the longest serving vehicles Driver Bus Lines has operated. It performed its varying duties with the utmost reliability.
This GM Denning DenAir Mono, build number 955, is powered by a GM Detroit Diesel V8 2 stroke engine, 568ci model 8V71, rear mounted in- line, with a 5 speed Fuller constant mesh transmission. Note: For a full story on the life of Alan Denning, please visit the Bus and Coach Society of Victoria's web site at bcsv.org.au and click on 'Buses over the years'.