1959 Bedford SB3
The wrap around windscreen Bedford truly captured the styling of the late 1950s
(Click on photos to enlarge) - Images free to share and distribute
The Story
General Motors UK Vauxhall-Bedford division introduced the forward control 'S' series truck and bus chassis' in 1951, with bus chassis arrivals in Australia beginning in 1952. Vauxhall-Bedford and GMH's (General Motors-Holden Australia) marketing referred to them as the Big Bedfords. A larger 300ci petrol engine was featured with a smoother and quieter drive line. The 'S' series bus chassis was designated 'SB', with an SBG (Gasoline) later called SB3 utilising a petrol engine, while SBO (Oil) later called SB5, offered a diesel engine.
The first version of the General Motors designed body that was built by CAC (Commonwealth Aircraft Corporation) for the Bedford SB was later to become known as the 'flat screen'. Like its predecessor Bedford OB, the Bedford SB flat screen was massively successful with 818 being built in Melbourne between 1952 and 1957. On very early Bedford SBs produced in 1952, CAC body production used carryover smaller Bedford OB side windows before offering the larger design side windows, but still with flat front windscreens similar to the OB.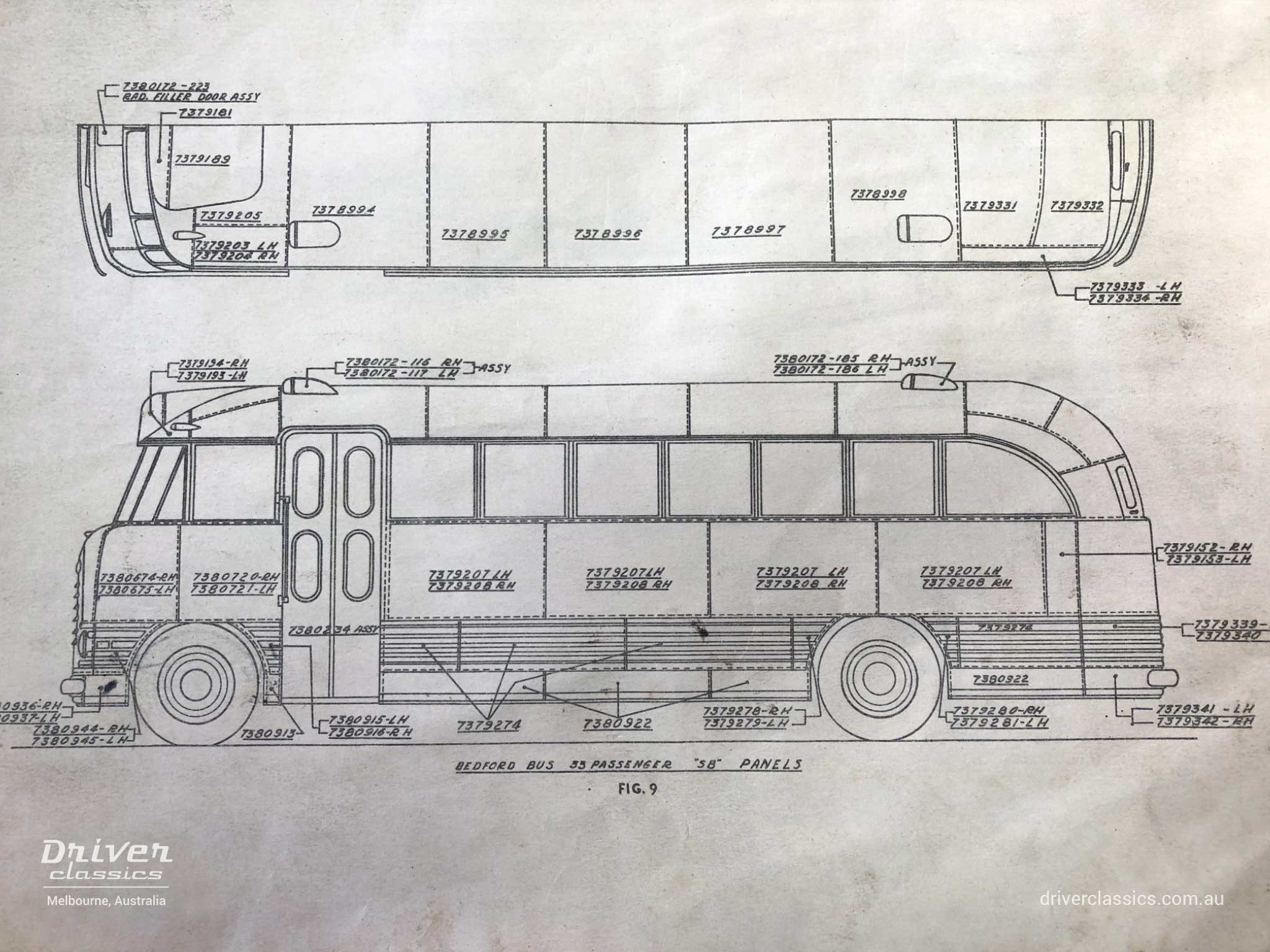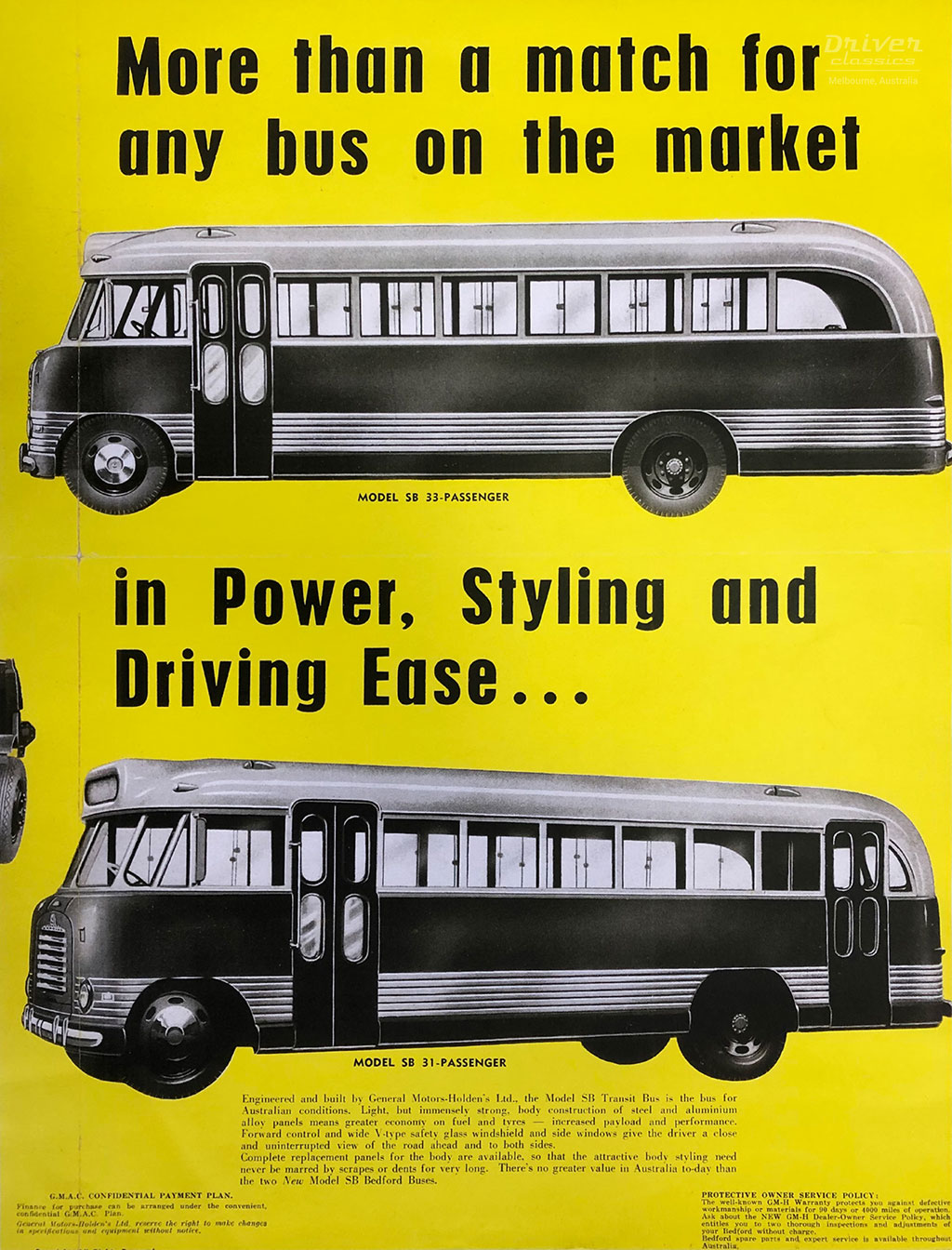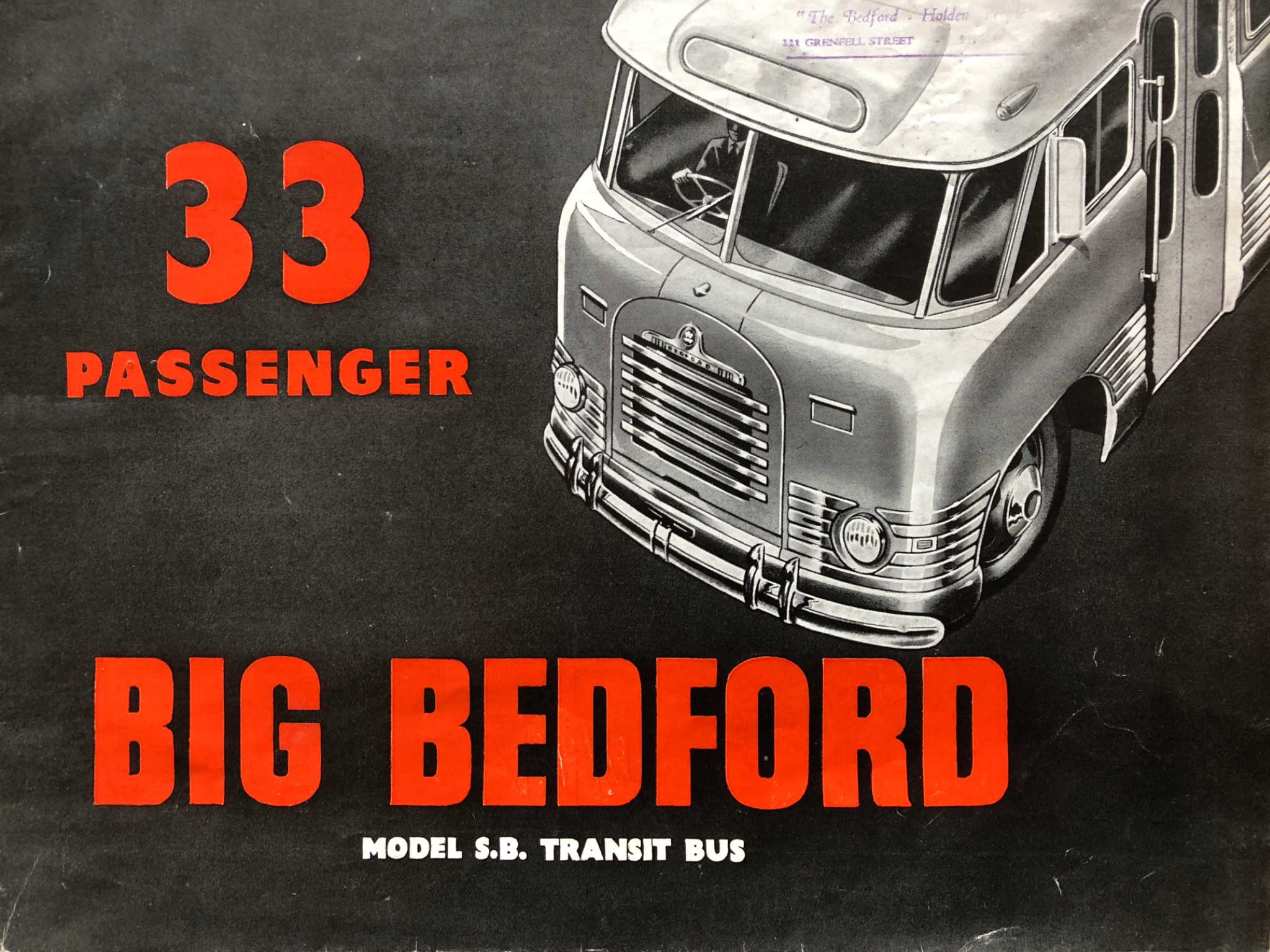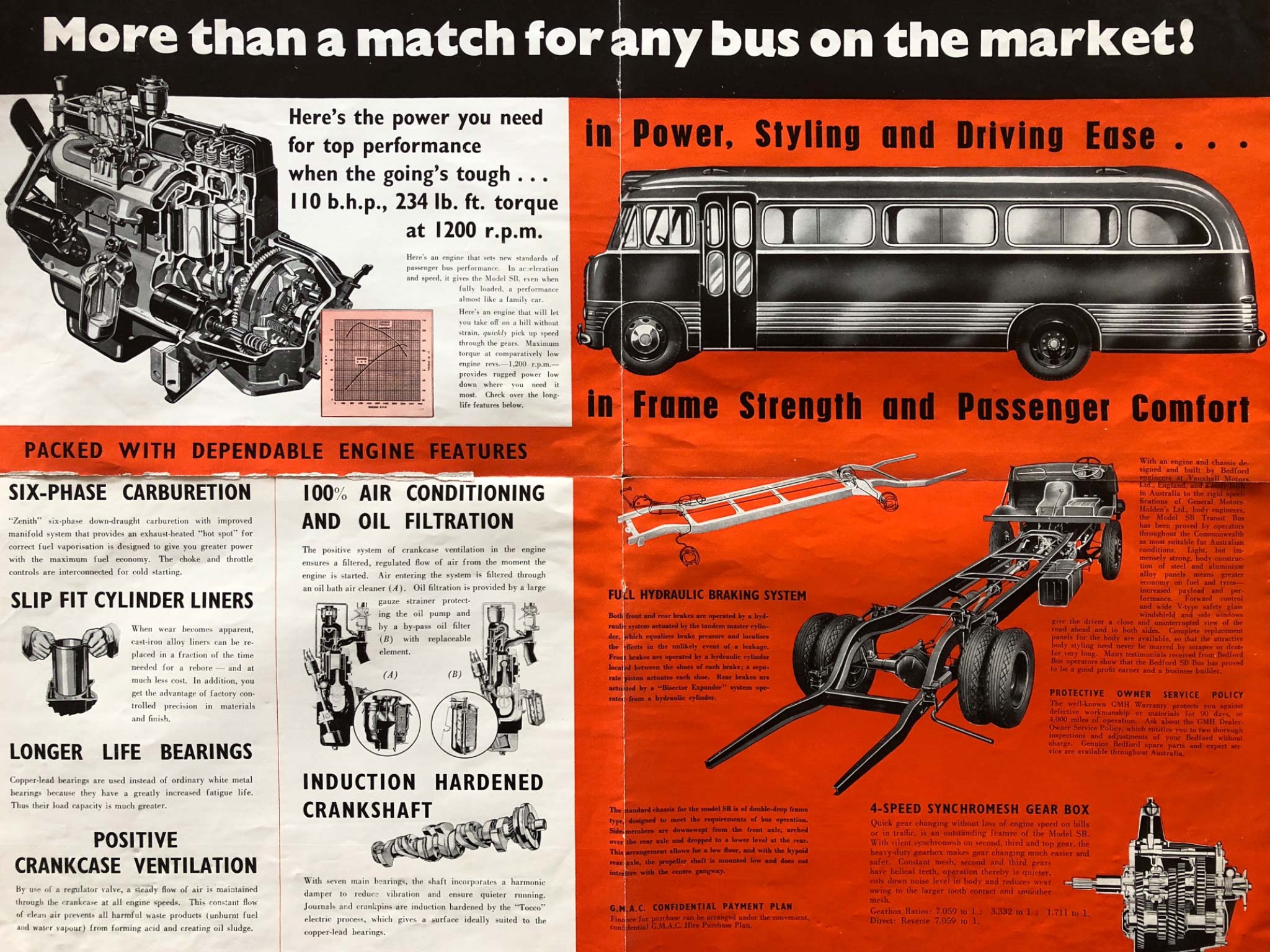 When the larger side windows were adopted they offered greater vision and appearance, but the large windows had a downside… they rattled considerably. In the 1950s, tear off block type tickets were widely used by private operators, and the cardboard backing for each ticket block became invaluable…it could be jammed in the window frame to stop it rattling!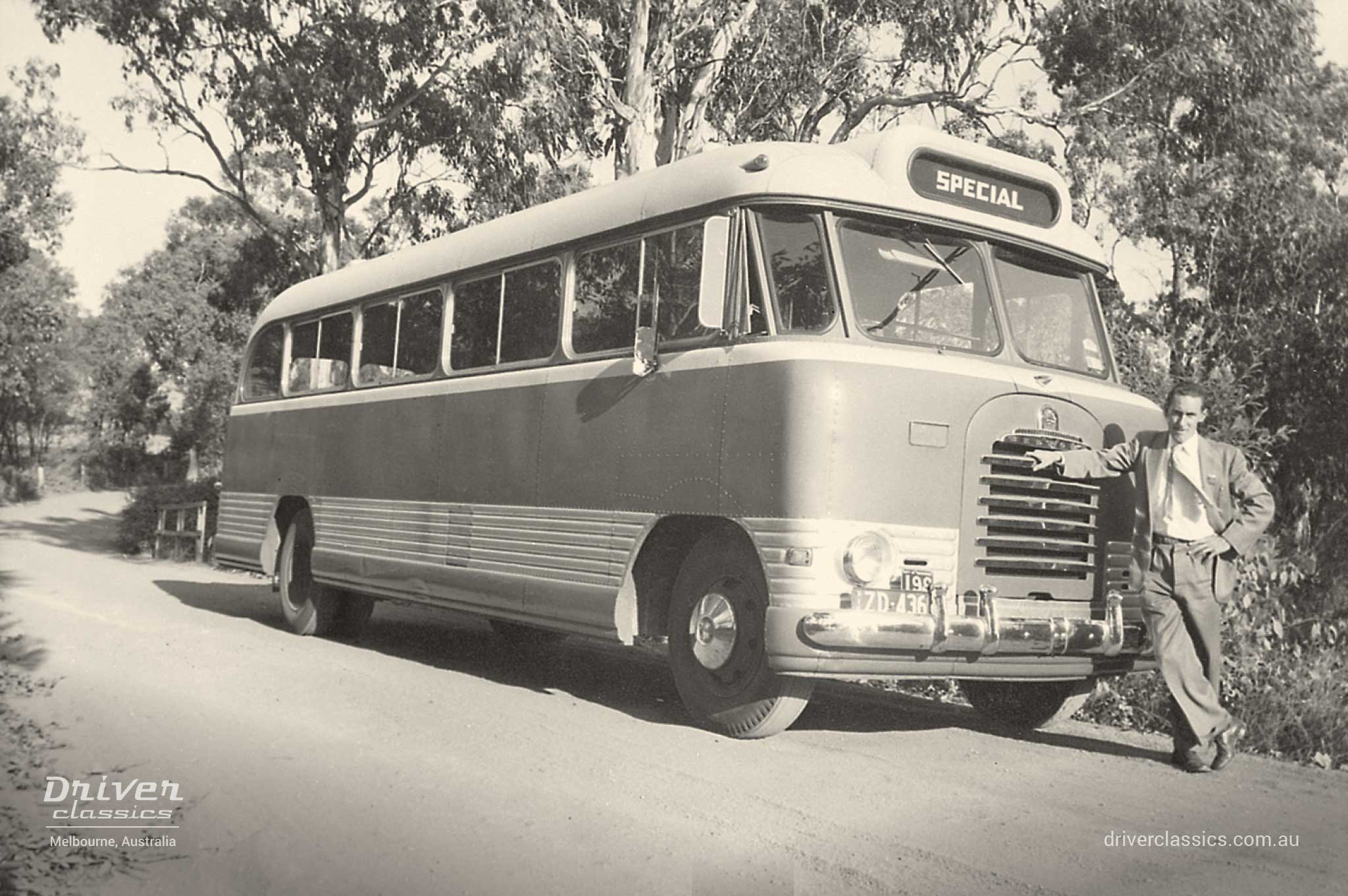 In 1957, GM-H released a facelifted version of the flat screen Bedford SB that became known as the 'wrap around' due to its large curved windscreen. It was a stylish bus with a design that took full advantage of the wrap around windscreen trend and it truly captured the styling of the late 1950s.
Of the 377 Bedford SB wrap arounds that GM-H built, 217 were directly sold by GM-H dealers as a complete bus. In 1958, GM-H decided to remove itself from direct marketing of complete buses and handed over the sales role to Bus Sales, a division of Victoria's Road Passenger Service Operators Association (RPSOA), later Bus Proprietors Association VIC (BPA). A further 160 Bedford SB wrap arounds were built by CAC and directly marketed and sold by Bus Sales.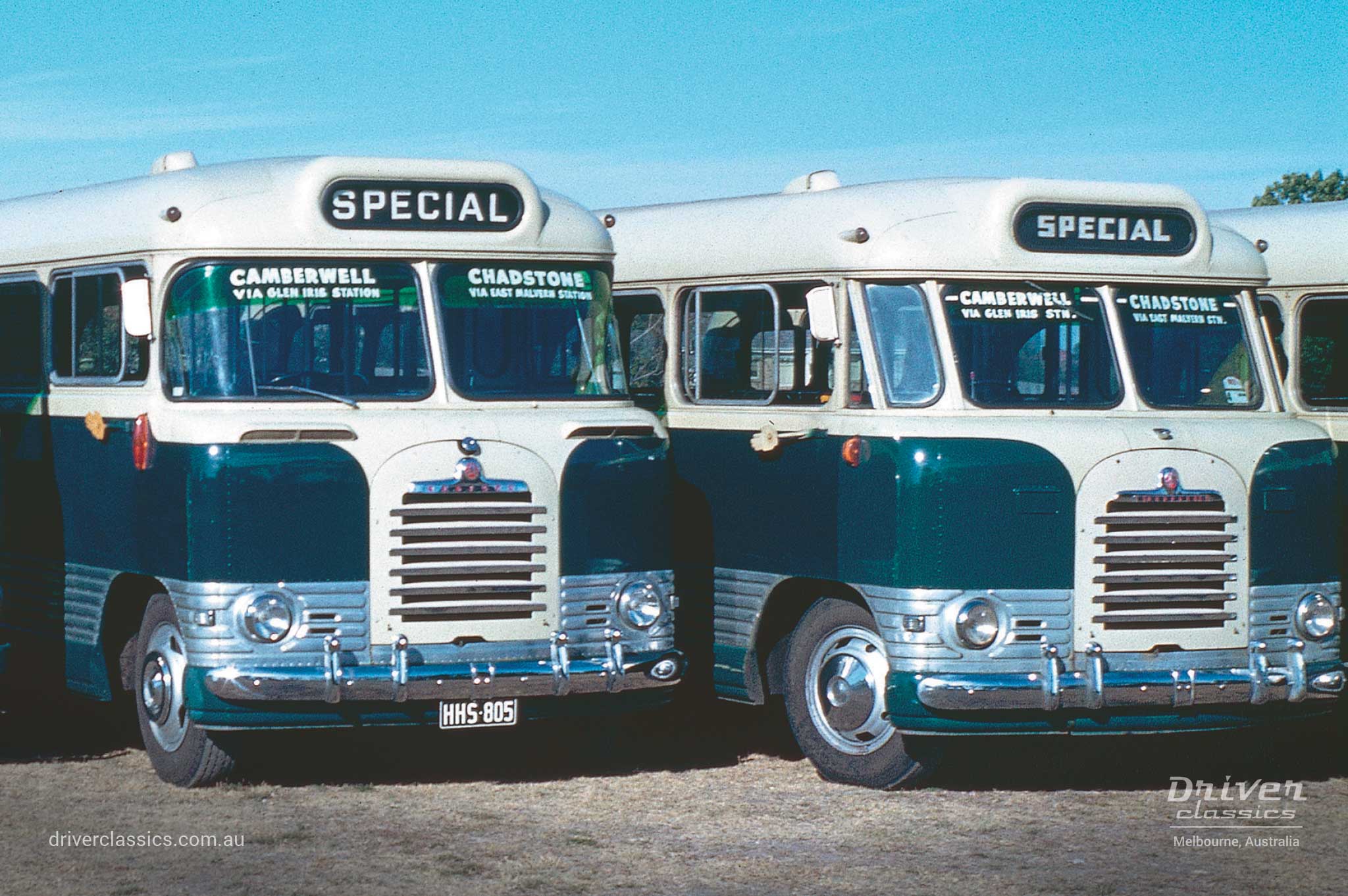 Other bus body builders were once again able to build bodies on Bedfords, as Bus Sales were now able to provide Bedford SB chassis' to any bus body builder. The Bedford SB was now widely sold throughout Australia. Ansair, a division of Ansett Transport Industries and a major bus builder, saw the potential to compete with CAC and acquired significant bus body builder, Symons and Fowler, to increase its sales volume of the Bedford SB.
The wrap around Bedford SB was the last model designed by GM in Australia. The next model, known as the 'Comair CAV 12', was fully designed and built by CAC on the Bedford SB chassis.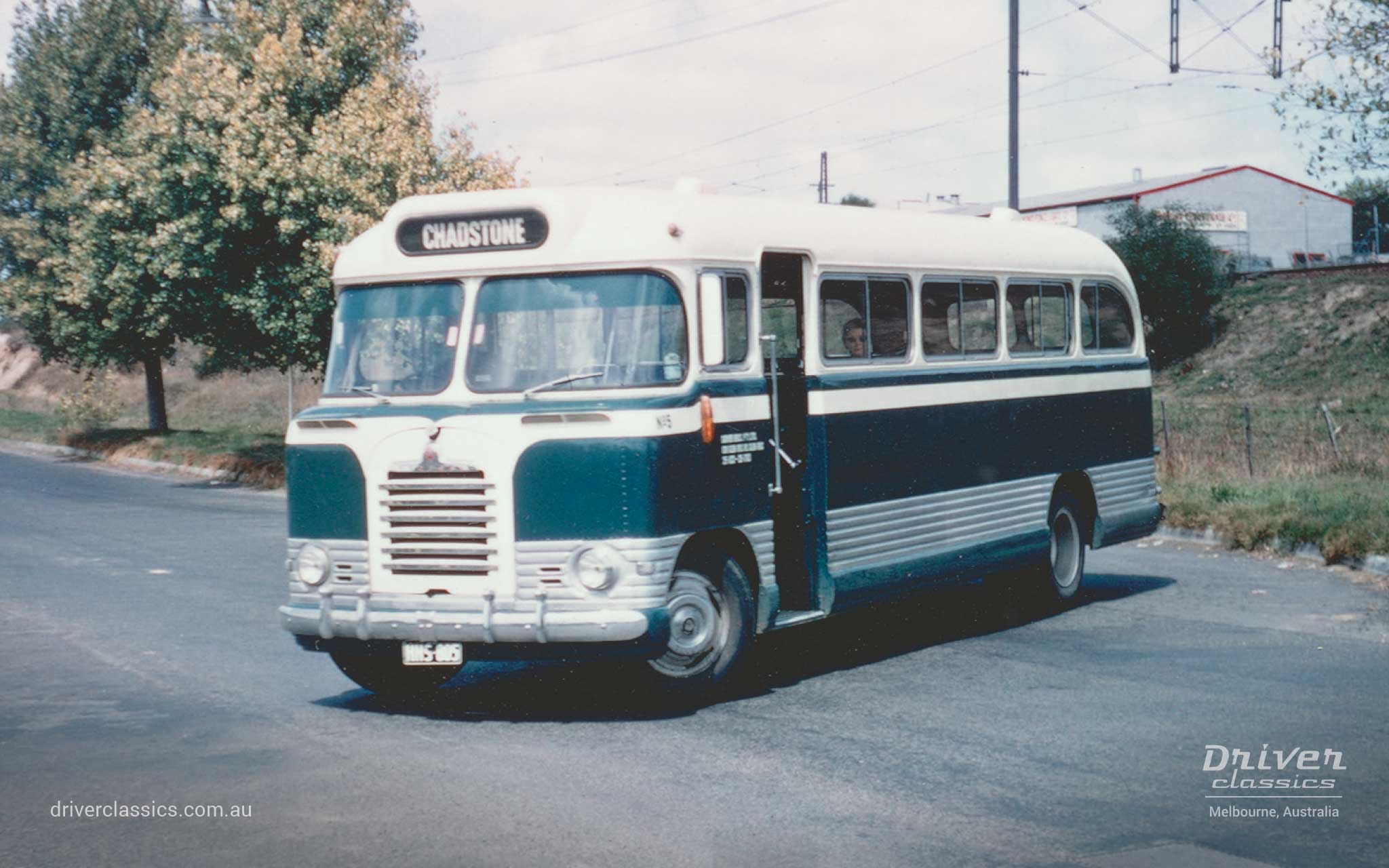 The Bedford SB3 with the 300ci petrol engine was a delight to drive. It was easy to maneuver, had an easy shift Turner syncromesh or crash gear box and although not quick, it had enough power to drive comfortably in most situations. But most importantly, it was a bus that private operators could make money with.
Our SB3 was new to Willis in Vermont, eventually passing to Craig Coop of Nuline Bus Service before being acquired by Driver Bus Lines in 1994. It has been meticulously restored to represent No. 5 HHS-805, a Bedford SB3 wrap-around originally operated by Driver Brothers.
This Bedford SB3 is powered by a Bedford 300ci, 6 cylinder petrol engine with a 5 speed Turner constant mesh transmission. The model designation SB3 stands for – S – model series, B - bus, 3 - petrol engine.